Mumbai-Goa Tejas Express passengers' grouse: Bad WiFi, music and movies
Updated on Jun 26, 2017 10:57 AM IST
Mumbai city news: Tejas Express passengers say only executive chair car passengers can access WiFi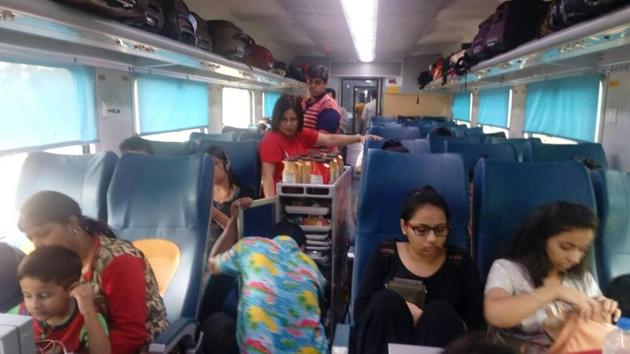 Want to use the WiFi on-board Tejas Express, India's first ultra-luxury high-speed train? Tough luck, it is only accessible to passengers travelling in the executive chair car, and even they have complained of a weak signal.
Railway minister Suresh Prabhu flagged off the 13-coach train last Monday. Since then, it has made three trips to Goa from CST and has been packed each time. Passengers' biggest complaint has been the lack of functional WiFi.
"The WiFi gets connected but we do not get good signal," said Mahesh Pawaskar, an executive car passenger travelling to Kudal.
Passengers travelling in other coaches of the train said the service disappointed them. "We tried to connect to the WiFi repeatedly, but could not. A railway official later told us that only executive car passengers can access WiFi," Rinki Narang, 23, a tutor travelling to Goa.
Passengers said that then they first asked for WiFi, the train attendants said it would be switched on at Panvel. On crossing Panvel, passengers were told that the WiFi signal was poor.
The train's infotainment system also disappointed passengers who paid high fares to experience this luxury service. Passengers complained of limited options.
"The system has just one movie — Bhagam Bhag, which released in 2006. Even the songs available are yesteryear songs, which nobody likes to listen to nowadays,"said a passenger.
Railway sources said the train has two types of infotainment screens on-board, which were fitted by two contractors. The first type of screen, fit in eight coaches, displays a Hindi movie. The second offers passengers more variety — it has two English movies and a Hindi one.
Personalise your news feed. Follow trending topics