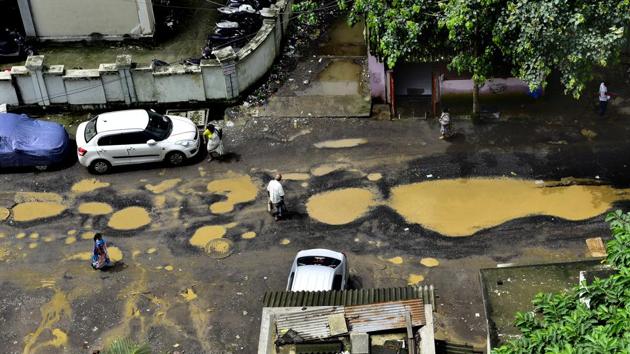 Mumbai needs to fight normalisation of potholes
UPDATED ON AUG 01, 2018 11:53 PM IST
What does it say about Mumbai — a city with global aspirations and often counted alongside international metros — that it cannot solve the potholes problem? What does it say about the city's administrators that the Bombay high court (HC), hearing a petition on this for the last few years, has repeatedly rapped them for their tardy and inefficient approach?
It tells us a great deal about the lack of accountability and commitment of the administrators – the Brihanmumbai Municipal Corporation, the state government's agencies, and the National Highway Authority of India (NHAI) – on the issue.
It also tells us that somewhere in the daily battles the average Mumbaiite wages during his/her commute, potholes have been normalised; a dreaded but routine aspect of our lives, especially during the monsoon. Pothole is a risk that carries no insurance. The sheer number of potholes, their dangerous depths and extent stunned us at first, then became shocking, then irritating that they persisted despite efforts the agencies supposedly undertook, and finally, are becoming normalised. Gradually, death by potholes will become normalised as well.
But potholes and deaths caused by them are not how cities should be. If agencies seem clueless on how to prevent or repair potholes, they ought to face the ire. The BMC is responsible for the largest tract of roads. Besides failing to get contractors to lay roads as per specifications and conducting quality checks, it has been experimenting with technologies and materials to fill potholes for, hold your breath, the last decade.
It alternated between using hot mix and cold mix. Then it used asphalt mixed with an additive imported from Germany; later imported a version from Israel; and is now trying to manufacture it on its own. Is it so hard to zero in on fool-proof technology? Hasn't the trial-error lasted long enough?
The HC certainly thinks so. "Why does the phenomenon of potholes keep recurring every year?... Why don't you appoint an expert agency to find out why potholes recur every monsoon and to suggest measures to stop this," asked the division bench of Justice Abhay Oka and Justice Riyaz Chagla this week. The state government and NHAI, as respondents, did not display any shame at their ineptitude.
The HC has been slamming these agencies for the last few years. "It's the citizens' fundamental right to have good roads…" (April 2018). "What are the problems that prevent them (the agencies) from repairing potholes that cause accidents?" (September 2017). "The BMC is not only required to but obliged to maintain roads" (August 2017). The then Chief Justice Manjula Chellur remarked that she would "personally note down how many potholes were there on the route" she travelled daily.
But no rap has been hard enough, it seems. Even the court-directed nodal agency in charge of recording complaints of potholes does not properly register complaints. So do we citizens grit our teeth and bear? Certainly not. Some have pursued pothole-reporting as if it were their day job, others have taken it upon themselves to fill the potholes.
The citizens' fightback perhaps needs to be taken to the next level. Mount and sustain pressure on the agencies in multiple ways. Tie up with local civic action groups and march to the ward offices. Start online petitions to the chief minister and BMC commissioner. Keep flooding the special lines and apps with complaints of potholes; it may fail, but try again and again, and again.
Map your areas and roads for potholes, and get in touch with the local media. Call or meet your corporators and demand that they move the system for your area/road. Petition the BMC or the state government to upload an easily accessible document or map of the city's roads with details of the contractor, the agency responsible for each road, and who should be contacted for complaints. Let's make noise about potholes, any which way we can.
There's nothing normal about potholes. Only sustained citizen action and a stern HC can drive the agencies to become accountable.
Close