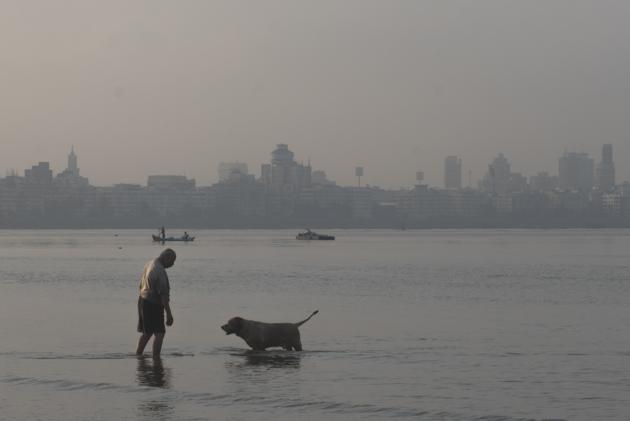 Mumbai records poor air quality after almost a fortnight
The city recorded an air quality index (AQI) of 203 - Malad recorded the worst air (404), while Worli recorded the cleanest air (86)
UPDATED ON APR 07, 2018 12:14 AM IST
After almost a fortnight of 'moderate' pollution levels, the city on Friday recorded 'poor' air quality levels. The worst air quality in the city was recorded in Malad, which fell under the 'severe' category.
The pollutant-measuring indicator, air quality index (AQI), was recorded at 203 (poor) on Friday, and is expected to be at 201 (poor) on Saturday. The last time that the city had recorded 'poor' AQI levels, at 237, was on March 25. From March 26 to April 5, AQI levels ranged from 115 to 199 (moderate).
AQI levels for PM 2.5 pollutants between 0-50 is 'good', 51-100 is 'satisfactory', 101-200 is 'moderate', 201-300 is 'poor', 301-400 is 'very poor', and above 400 is 'severe'. PM 2.5 pollutants refer to small pollutant particles that can enter the lungs easily and cause respiratory and cardiovascular illnesses.
Researchers from System of Air Quality Weather Forecasting and Research (SAFAR) said the city could expect air quality to remain 'poor' category over the weekend.
"There has been a change in wind pattern, which has introduced a lot of moisture from the sea. The rise in moisture causes an increase in the pollutant-carrying capacity of the air. It will take a day or two for the winds to stabilise and air quality to improve," said Gufran Beig, project director, SAFAR.
Of the 10 locations where air quality is monitored by SAFAR, Malad recorded 404 (severe), which is expected to be 412 (severe) on Saturday.
Air quality was 329 in Navi Mumbai, 315 in Mazgaon , and 304 in Bandra Kurla Complex, all falling under the 'very poor' category. While majority of the other locations recorded 'moderate' air, the cleanest air in the city was recorded in Andheri (39-good), Borivli (50-good), and Worli (86-satisfactory).
"With the changing weather patterns, certain areas can become hotspots for air pollution. However, external factors such as vehicular emission, biomass burning and construction dust also need to be checked," said Beig.
Meanwhile, both day and night temperatures were close to the normal mark. Moisture levels were high, with 71% humidity at Colaba and 57% at Santacruz.
The weather bureau has predicted a cloudy sky on Saturday, as a result of high-moisture incursions from the coast.
Close