Navi Mumbai airport project: Hundreds stage morcha, say village in danger of flooding
The villagers alleged that the City and Industrial Development Corporation (Cidco) failed to act, despite repeated requests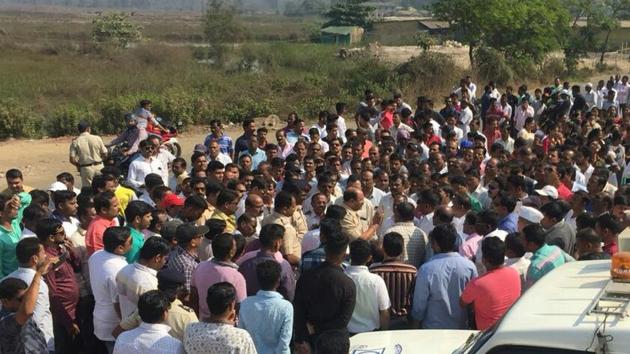 Updated on Feb 14, 2018 02:10 PM IST
Hindustan Times |
, Panvel
G Mohiuddin Jeddy
Hundreds of project-affected persons (PAPs) from Pargaon village, situated near the proposed Navi Mumbai airport land, staged a morcha on Tuesday, saying the landfill around the area put them at the risk of floods.
They alleged that the City and Industrial Development Corporation (Cidco) failed to act, despite repeated requests. Police confined the protesters, including women and young children, to the village and prevented them from proceeding further, saying they had not sought permission for the morcha.
The residents of 10 villages are currently being rehabilitated near Wadghar, Dapoli and Wahal. However, villagers from Pargaon, Dungi, Owle, Dapoli and Bhangarpada will not be resettled as these areas do not fall under the main airport land. Cidco, which has acquired this land, gave the villagers a compensation package instead. It also assured them that they will be given contracts for 50% of the airport pre-development work, for which they must form societies.
"As agreed upon, Cidco should ensure that the work is divided equally between the PAPs. Four societies from Dunga village have been given work, while Pargaon has been ignored. This is not right," said Sadashiv Patil, a Pargaon panchayat member.
He added that the village is surrounded on both sides by a creek and as such, the water level rises during the high tide. "Owing to landfilling, water has started entering the village. We are facing the threat of floods, but Cidco failed to act. Hence, we organised the morcha and put a stop to the pre-development work. If Cidco does not take corrective steps, we will intensify our agitation," he said.
Cidco vice chairman and managing director Bhushan Gagrani, however, said the work was progressing according to schedule and had not been stalled.
"We will take steps to ensure there is no threat of flood in the region. We will ask CIF Pune or IIT-Powai for their assistance in this matter. The packages we have given the PAPs are the best in the country. We cannot meet any additional demands," he said.
Close Story
Personalise your news feed. Follow trending topics