Neither Modi nor Rahul would become next PM, says Prakash Ambedkar
He said the next PM would neither be from BJP nor Congress, adding that former PM HD Deve Gowda is a dark horse in such a situation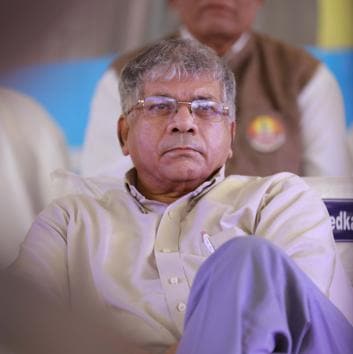 Published on May 03, 2019 01:22 AM IST
Dalit leader Prakash Ambedkar on Thursday said both Narendra Modi and Rahul Gandhi do not stand a chance to become the next Prime Minister of India. He said the next PM would neither be from BJP nor Congress, adding that former PM HD Deve Gowda is a dark horse in such a situation.
Ambedkar, who heads the Vanchit Bahujan Aaghadi (VBA),said "Modi will not be able to become the PM till the BJP gets an absolute majority on its own. In case of Congress, regional parties will not allow Rahul to become the PM as the Congress is their main rival in their respective states," said Ambedkar. "Do you feel that Naveen Patnaik or N Chandrababu Naidu or Mamata Banerjee will allow Rahul Gandhi to become the PM," he asked. He said Congress may win around 100 seats and BJP would win around 148-200 seats in the Lok Sabha polls.
"Currently, I see HD Deve Gowda as the dark horse and he is more acceptable as he did not interfere in the states when he was the PM. The second one is K Chandrashekhar Rao (Telengana CM) as he had performed very well in the recent Assembly polls and will also do good in the Lok Sabha," said Ambedkar.
He blamed the Congress for the sorry state of affairs, saying the Congress did not do anything to recover from the 2014 debacle and that it had also failed to strike alliances with the strong regional parties. "In the 2014 Lok Sabha polls, a huge section of OBCs had voted for the BJP and the winning margin was more than 1.5 lakh votes. There was no concerted efforts from the Congress party to win them back," "In addition, the Congress failed to ally with us in Maharashtra, with SP-BSP in Uttar Pradesh, with AAP in Delhi or the Chautala clan in Haryana," he added.
For the Lok Sabha elections, Ambedkar's partnership with the AIMIM was opposed by the Congress as they called it as a communal outfit. The Congress asked Ambedkar to snap ties with AIMIM, which Ambedkar refused. Both Ambedkar and the state unit of Congress accused each other of being unreasonable. The VBA contested all 48 seats in Maharashtra.
Close Story