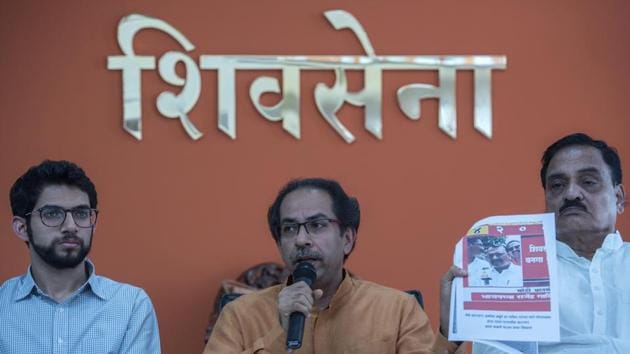 Palghar bypoll: Uddhav won't accept defeat, blames EC
BJP candidate Rajendra Gavit defeated Sena's Srinivas Wanga by less than 30,000 votes in Palghar on Thursday.
UPDATED ON JUN 01, 2018 10:27 AM IST
Hours after losing to his ally in the Lok Sabha bypolls at Palghar, Shiv Sena chief Uddhav Thackeray blamed the Election Commission of India (ECI) for his party's loss. He, however, did not comment on the Sena's future in the Bharatiya Janata Party (BJP)-led Maharashtra government.
BJP candidate Rajendra Gavit defeated Sena's Srinivas Wanga by less than 30,000 votes in Palghar on Thursday.
The bypoll in Palghar, necessitated by the death of BJP's sitting MP Chintaman Wanga, has become a major flashpoint between the ruling allies, as the Sena chose to contest the polls on its own, and even fielded Wanga's son, Srinivas, as its candidate.
Thackeray, in a press conference at Sena Bhavan in Dadar, refused to term the results a defeat for his party. He blamed the malfunctioning Electronic Voting Machines (EVMs) and Voter Verifiable Paper Audit Trail (VVPAT) machines, and the EC not acting upon complaints of cash-for-votes against BJP workers as the reasons for Gavit securing most votes.
The Sena had demanded recounting of votes, which were polled on May 28, and had urged ECI to not declare results on Thursday. The poll panel, however, rejected the plea and handed over the winning certificate to Gavit.
When quizzed about the Sena's future in the state government, Thackeray sidestepped the query and said "the independence of the election machinery is important at this point of time". Sena has 63 legislators as part of the BJP-led government in state. Thackeray, however, reiterated his party's decision to contest solo in all future elections.
Slamming the ECI and questioning how the members of the poll panel are picked, Thackeray said the "democratic process" should begin with an election of the Election Commission as opposed to its appointment by the government.
"What happens is that a party appoints the election commissioner, the same party also runs the administration. Then we see what happened in Palghar – the figures of voter turnout change overnight. We want proof of where and how these figures increased," said Thackeray, adding that on one hand the ECI urges citizens to vote, and then it fails to secure rights of the voters.
"As there are 'corrupt practices', all political parties should come together and file a case against the EC for the corrupt system," he said, questioning if the poll panel wasn't aware of the EVMs and VVPATs being sensitive to weather conditions in India.
Close