Pollution level at Mumbai's Powai lake 8 times above safe limit, says environment ministry
Dec 18, 2017 04:33 PM IST
The lake's water had a high concentration of suspended solids, ranging between 308mg/l and 328 mg/l, against safe limits of less than 50 mg/l
Chemicals and household sewage flowing into Powai lake has made pollution in the water body eight times above safe standards, the union environment ministry told the Lok Sabha in a written statement on Friday.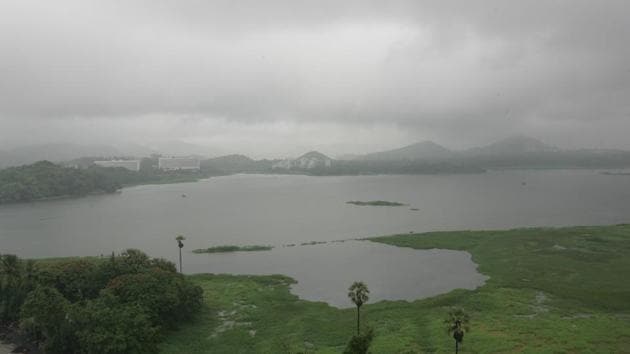 The level of biochemical oxygen demand (BOD) — which indicates the concentration of oxygen required for survival of aquatic life — reached 150 milligram per litre (mg/l) as against accepted standards of 20mg/l laid out by the Central Pollution Control Board (CPCB).
The lake's water had a high concentration of suspended solids, ranging between 308mg/l and 328 mg/l, against safe limits of less than 50 mg/l. Chemical pollution - indicated by the chemical oxygen demand - was twice as much as the permissible limit at a maximum of 496 mg/l as against maximum safe limit of 250 mg/l.
The data was provided by the environment ministry after a query from Kirit Somaiya, a Member of Parliament from Mumbai.
Mahesh Sharma, minister of state, Ministry of Environment, Forests and Climate Change told the house that the details were revealed after a joint inspection by CPCB, Maharashtra Pollution Control Board (MPCB) and Brihanmumbai Municipal Corporation (BMC) after Somaiya asked the ministry about present pollution status of Powai Lake, whether a consultant was appointed by the civic body, funds allocated for rejuvenation work, and when restoration is expected to begin.
Sharma's reply said that an inspection team found that there are 22 storm water drains connected to Powai Lake. These drains were bringing sewage from adjoining slums into the lake. He said that the sewage needs to be sent to a sewage treatment plant. The minister said that the lake's water quality needed to be monitored regularly, and for this the BMC had appointed a consultant and provided Rs45 crore to restore the lake. "No sewage should be discharged into the storm water drains, and proper waste management is necessary," said Sharma, adding that the BMC needs to ensure that idol immersions during festivals such as Ganeshotsav and Durga Puja is avoided .
MPCB officials told HT that directions have been issued to BMC time and again for speedy restoration of the water body. "Since the municipal corporation has already appointed a consultant, they have assured us that restoration of the lake is expected to be completed within the next few months, and improve water quality," said YB Sontakke, joint director, water quality, MPCB.
What earlier studies at Powai lake revealed:
Untreated sewage entering the lake had led to algae blooms which can reduce the water's oxygen content and kill aquatic life. According to PB Salaskar, water quality analyst and secretary, Naushad Ali Sarovar Samvardhini (NASS), transparency levels have reduced from 120 cm in 1998 to 17 cm in 2017, which means a drop of 86% in visibility levels. "The only way to stop this is of the civic body conducts a detailed study for the source of water pollutants and sewage entering the lake and then diverts it," he said.
The same study found the level of dissolved oxygen (DO) – amount of oxygen present in water - has dropped to critically low levels, lowest since 1961, at Powai lake. The current DO range at Powai is between 1.7-7.9 mg/l. Between 1961 and 1963, the range was 2.80-7.80 mg/l, and 4-12.40 mg/l between 1975-77. Between 1987-89, the range fell between 3.60-12 mg/l and in 1995-96, the range was 3.60-6.31 mg/l. "Pollution level at Powai is only increasing at an alarming rate. Large fluctuations in DO levels over a short period of time may be the result of an algal bloom, and this deadly for a water body," said Salaskar.
How can Powai be saved?
•Organise awareness training programmes for local residents about the importance of water bodies
•Create public participation and appoint agencies to maintain the lake's health
•Involve educational and scientific institutions in periodically monitoring the quality of lake water and in conducting biodiversity surveys
•Collate the scientific data collected and make it available to everyone, so management strategies can be devised
•Construction of a boundary wall after proper survey to prevent encroachments
•Reducing pollution by improving water quality of the lake through distillation and bio-remediation
•Installation of flap-gates, construction of proper channels for adequate release of sewage and water-shed management techniques
(Source: Naushad Ali Sarovar Samvardhini)