Pollution on the rise, but Mumbai's Diwali air cleaner this year
Updated on Nov 08, 2018 01:24 AM IST
AQI was at 'poor' as against the predicted 'very poor'; pollution levels may go up today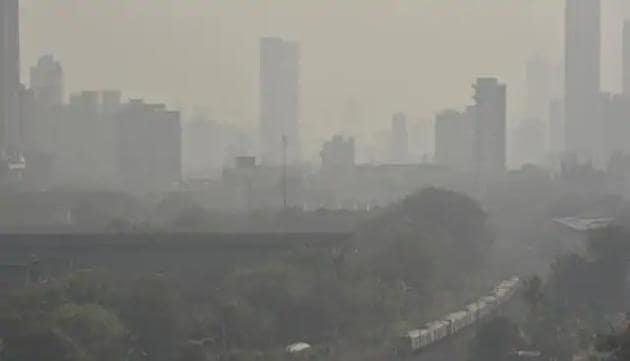 Pollution levels in Mumbai rose slightly on Wednesday, but the air was much cleaner than it usually is during this time of the year, researchers said. Researchers had forecast a 'very poor' air quality index, or AQI, of 306 for Wednesday, considering pollution from firecrackers. However , a 'poor' AQI of 221 was recorded.
AQI is a pollutant measuring indicator. Levels from 0-50 is considered 'good', 51-100 'satisfactory', 101-200 'moderate', 201-300 'poor', 301-400 'very poor', and 401 and above is 'severe'. Last Diwali, Mumbai's AQI level was at 203 (poor).
In 2016, it was 278 and in 2015, Mumbai recorded an AQI of 279. The air was clean despite Diwali, as weather conditions helped disperse pollutants between Tuesday and Wednesday.
"Northeasterly winds at moderate speed, and sporadic rainfall in areas around Mumbai, stopped pollution levels from reaching extremely high levels on Wednesday as it otherwise does during this time of the year," said Gufran Beig, project director, SAFAR.
"But, considering total emission loads, especially from firecracker bursting, witnessed in 2017, the air quality is expected to be 'very poor' over the next 48 hours," he said.SAFAR's forecast said particulate matter (PM) in the air will reach its highest levels between midnight and 3am on November 7 and November 8 (Wednesday night to early Thursday morning), as pollution from crackers will start settling towards the surface.
For Thursday and Friday, the System of Air Quality Weather Forecasting and Research (SAFAR) issued a revised forecast, when pollution levels are likely to rise to 335 and 301, both falling under the 'very poor' category. Air quality is likely to improve from Saturday.
On Wednesday, Andheri was the most polluted location in the city, with an AQI of 355 (very poor), followed by Borivli at 301 (very poor). Bandra Kurla Complex was not far behind, with an AQI of 297 (poor). Malad and Mazgaon recorded 'poor' AQI, and the remaining locations in the city recorded 'moderate' air quality. Bhandup recorded the cleanest air in the city, at 101 (moderate).
SAFAR predicted that the most-polluted locations on Thursday would be Andheri and Bandra Kurla Complex. "Senior citizens, infants, and people who already have lung, heart and other illnesses (such as diabetes) are most vulnerable to the 'very poor' air quality," read SAFAR's precautionary statement on Wednesday for Mumbai.
PM2.5 — small particles predominantly dust, that are 2.5 microns in size, can penetrate deeper into the lungs and enter the bloodstream. The PM 2.5 level was 97 µg/m3 (microgrammes per cubic metre) on Wednesday, against a safe limit of 60 µg/m3. It is expected to rise to 165 µg/m3 on Thursday and then decline to 121 µg/m3 on Friday.
Similarly, PM10 levels - slightly larger but coarser particles – were recorded at 169 µg/m3 against a safe limit of 100 µg/m3. SAFAR's forecast said it would rise to 245 µg/m3 on Thursday and drop to 190 µg/m3 by Friday.
Last year, the city had recorded one of its most polluted days on record since 2015 a day after Diwali (October 20) when AQI levels were 319 (very poor). Pollution levels expected to be higher on Thursday.