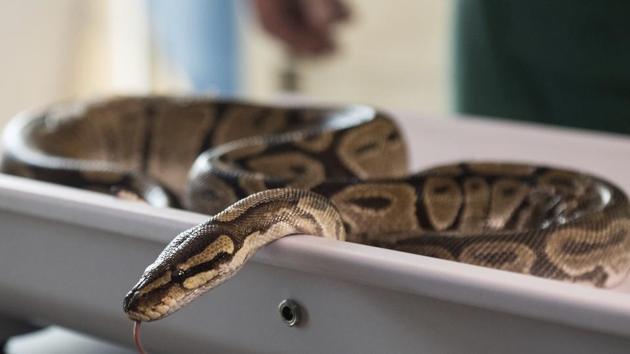 Snake venom research centre will aid better diagnosis, says Mumbai's Haffkine Institute
In its letter to the central government requesting funds for the centre, the institute cited a Hindustan Times report on snake bite cases in India.
UPDATED ON FEB 24, 2018 10:29 AM IST
The Haffkine Institute For Training, Research and Testing in Parel has proposed the development of a national venom research centre for better diagnosis and treatment of snake bites in India. In addition to this, Haffkine is also planning to conduct a countrywide venom mapping and improving the availability of anti-snake venom.
In its letter to the central government requesting funds for the centre, the institute cited a Hindustan Times report on snake bite cases in India.
Nishigandha Naik, director in-charge, Haffkine Institute, said, "When HT published its report on snakebite emergencies, it was the first such data highlighting the issue. It drew our attention, leading us to call for better facilities to address the problem."
On November 20 last year, HT had reported that of the 1,14,000-odd emergency cases related to snakebites in India, Maharashtra recorded 24,437 cases between April 1 and October 31 last year. The data was recorded by the health management information system (HMIS), an initiative of the Ministry of Health and Family Welfare.
HT accessed the updated HMIS data, recorded from April 1 2017 and January 31 2018, which revealed that Maharashtra continues to report the maximum number of snake-bite emergency cases (35,025), followed by West Bengal (31,361) and Tamil Nadu (16,789).
In Maharashtra, maximum cases were recorded in Nashik, followed by Palghar and Thane districts.
This means an average of 116 snakebite cases per day over the past 10 months in Maharashtra and over 570 cases per day in India.
According to Haffkines, snakebites affect the lives of 4.5 million people globally every year. Over 2,80,000 people are bitten in India annually, which includes around 50,000 fatalities. There are 216 species of snakes in India, of which 52 are venomous, with kraits, cobras, saw-scaled and carpet viper being the major ones.
"After consulting institutions from different states on how they plan to tackle the issue, we are now in the process of developing a concrete proposal," said Dr. Naik. "I personally visited the health ministry to help with forest permissions and accessibility to remote areas through inter-department consultation."
She added that once the country-wide venom mapping is completed new venom compositions can be developed. "The efficacy of the current anti-snake venom in circulation has gone down as several viles are being pumped into patients to treat bites. We will need samples from various parts of the country to understand the variations in venom. This will help develop a more powerful composition, which can address this problem on a large scale level across India," said Dr. Naik.
Doctors pointed out that snake bite emergencies needed to be highlighted as a notifiable disease. "Snake-bite cases or deaths often go unreported in India. It can be notified only when reporting becomes mandatory for all medical centres from cities, district level hospitals and even clinics at the gram panchayat level," said Dr. YK Gupta, head, department of pharmacology, All India Institute of Medical Sciences (AIIMS) and chief of National Poisons Information Centre.
Close