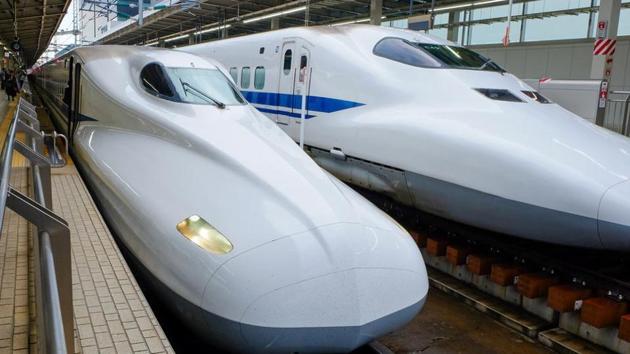 Thane farmers will lose 20 hectares for bullet train project
Authorities assure stakeholders they won't suffer any losses in the Mumbai-Ahmedabad bullet train project; farmers want four times the value of ready reckoner rates as compensation
PUBLISHED ON APR 07, 2018 07:03 PM IST
More than 250 farmers from Thane district will lose a total of 20 hectares of their land — about twice the size of Oval Maidan — in the proposed Mumbai-Ahmedabad High Speed Railway project, informed the Thane district collector office on Saturday. A meeting was held between these farmers, the collector and officials of the National High Speed Rail Corporation on Saturday in the district planning committee hall wherein the district authorities assured the farmers that they will not suffer any losses due to this project.
The ambitious bullet train project of the central government is passing through several villages in Thane district. The farmers, especially from Diva, had registered their opposition to this project unless the state promises them adequate compensation. To address the fears of these farmers, a joint meeting was held.
Aniruddha Ashtaputre, district information officer, said, "The train is passing through nine villages in Thane district. More than 250 farmers will lose a total of 20 hectares of their land in this project. The National High Speed Railway Corporation gave a presentation of the bullet train project to these farmers and the district collector has also assured that none of these farmers will face any losses. The project will be implemented by taking the villagers and farmers into confidence."
Ashtaputre said that the demands of these farmers were heard and authorities would find a positive solution for them.
Sudam Pardeshi, sub-divisional officer of the district, said, "The land dealings for bullet train will be done on the lines of the land pooling system adopted for the Mumbai-Nagpur Expressway. The rates will be given as per the May 25, 2016 state government's ruling. The farmers from the areas that come under the developmental plan of the corporation, will get additional compensation equal to the ready reckoner price of the land, so that farmers get twice the price of their land. The land dealings will be done by seeking permission of all those whose names are on the 7 by 12 extract of the land. The whole dealing will be transparent."
A collective land survey of these nine villages will be undertaken, the boundaries will be decided and later the distribution of the land will be established, Pardeshi said. The district has asked the villagers to cooperate with the surveyors. The farmers can also approach the administration to clear any doubt they have regarding compensation, Pardeshi said.
The farmers, though, have demanded compensation equal to four times that of the ready reckoner rate.
Rohidas Munde, president of Agasan village Bachao Sangharsh Samiti, said, "We have placed a few demands before the authorities in the meeting. We do not want them to compensate us only as per the ready reckoner rate, as this rate is very low in Diva. We want compensation four times that of ready reckoner rates. We have also demanded jobs for one member of every family that will lose their land in the bullet train project. We also want royalty or pension from the government as we will be losing our livelihood permanently. The authorities have agreed to think positively on these demands."
R P Singh, the project manager of National High Speed Rail Corporation, said, "Villages like Savli, Ghansoli, Shil Dawale, Padle, Desai, Betawade, Agasan and Mhatarde will be affected in the project. We will need 13.5 metres for laying of tracks and 4 metres for service road. Total 17.5 metres of area will be required for the project. We will also ensure that the access roads will not be affected while the buildings in the vicinity will be safe from the vibrations caused by the speed of this train."
Close