Three bird habitats in Mumbai included in Central Asian Flyway
Oct 10, 2018 12:20 AM IST
Globally, nine migratory flyways have been identified under the Convention of Migratory Species (CMS)
Wetlands along Thane creek and the Mumbai harbour have been included in the Central Asian Flyway (CAF) — an important migratory route for birds. The identification of these areas is part of the five-year national action plan announced in September by the Union environment ministry to enhance, secure and conserve migratory bird routes and habitats.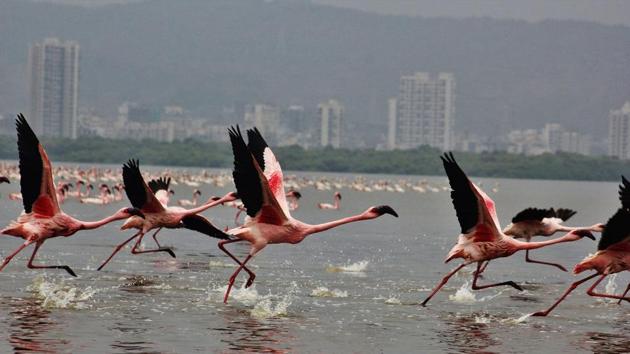 Flyways are described as areas used by groups of birds during their annual cycle which include sites for breeding, stop-overs, and to spend the winters. "Globally, nine migratory flyways have been identified under the Convention of Migratory Species (CMS). CAF is one of them, covering migratory bird routes across 30 countries," read the notification by Dr R Gopinath, joint director (wildlife), union environment ministry.
Nature conservation group, Bombay Natural History Society (BNHS), one of the agencies that identified Sewri, Mahul and Thane Creek as sites that need to be included in the CAF, said that conservation efforts are needed to preserve these areas in future.
"We looked at critically important sites that form the CAF for water birds, and these locations in Mumbai Metropolitan Region (MMR) form an important zone along the west coast. The idea is, by saving these bird flyways, we are automatically saving wetlands, which is a precious commodity," said Deepak Apte, director, BNHS.
An official from the state environment department said they will adhere to guidelines issued under the national action plan. "We have already had several discussions with the Centre, BNHS, and other institutes.
Apart from MMR locations, Alibaug, Uran in Raigad district, and Jaikwadi Gangapur Dam and Nandur Madhmeshwar Bird Sanctuary in Nashik, are other sites in the state selected under the CAF. Each of these wetland sites hosts over 1,50,000 birds every winter. Site-specific guidelines will be issued to the state government and inputs will be needed from the state to cover each site under the action plan, said Apte.
"While these seven locations might already have had protection status as important bird areas or wetland sites, they were never met the prescription for CAF. Now, identifying them under CAF allows us to work on management with focused objectives such as species, habitat conservation, capacity development, research, communication, and international cooperation – under the plan of each site," added Apte.
"The protection status of these wetlands, as compared to forest areas, is much lower. While these areas are now part of CAF, the management plan for various birds visiting these sites needs to be drafted and the protection status needs to be similar to sanctuaries and forests across the country. This is essential to protect such sites, which are not only stopovers for birds but full-fledged habitats," said Shashank Dalvi, independent ornithologist.
Threat to Thane, Uran wetlands
While the Thane creek has already received protection as a reserved forest flamingo sanctuary, the construction of the 22-kilometre long Mumbai-Trans-Harbour Link (MTHL) sea bridge aimed at connecting Sewri (Mumbai) to Nhava (Navi Mumbai), which passes close to the Sewri mudflats, could affect migratory birds, according to environmentalists.
HT has been reporting since June this year regarding loss of wetland sites in Uran for developmental activities, and BNHS itself has noted a change in the seascape due to this.