Time to get Mumbai's railway safety on track, reveals GRP data
The signs of the suburban railway network becoming difficult and unsafe can be gauged from the increasing number of cases registered by the GRP.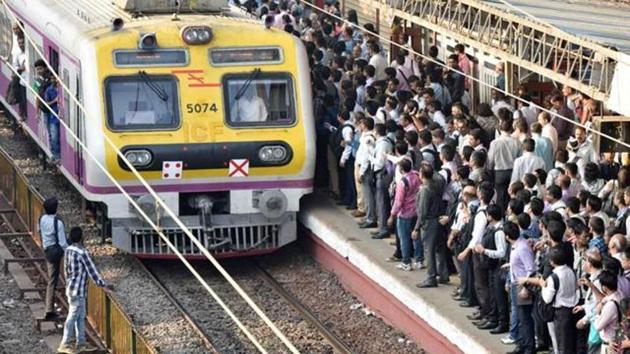 Updated on Apr 09, 2018 11:47 AM IST
Hindustan Times |
, Mumbai
Megha Sood
On February 9, Dravita Singh, 23, standing at the door of a moving train lost her fingers and a leg, when a man, who wanted to steal her mobile phone, hit her with a stick. She could have lost her life if the motorman had not noticed. The accused, a minor, was apprehended from the Masjid Railway station, the next day.
In another incident, on March 10, Miloni Parekh, 18, was dragged till the footboard of a Churchgate-bound train after she ran to save her mobile phone, when a man snatched it at Santacruz station.
These are just two instances of the 200 cases mentioned by chief minister Devendra Fadnavis in the Assembly recently. These crimes are committed by members of the 'fatka' gang that have been proved to be a menace for commuters.
Although the crime detection rate of these cases is 100 percent according to GRP commissioner Niket Kaushik, the prevention is almost close to impossible because of the numerous issues ranging from influx in population to increase in train services, and lack of development in railway infrastructure to shortage of man power for the GRP.
The signs of the suburban railway network becoming difficult and unsafe can be gauged from the increasing number of cases registered by the GRP.
From 5,000 cases registered in 2014 with the GRP, it increased to 25,000 First Information Reports (FIRs) in 2017. According to Kaushik, one of the major reasons for increase in crimes is, unchecked access to railway tracks and stations.
According to GRP, one constable is accountable for 2,193 commuters, which makes it impossible for the present staff of 3,700 GRP officers – a number which has remained constant since 1982 – to man all the 138 stations that operate for the Mumbai suburban railway network, investigate incidents of crime, and also keep a watch on the staggering 700kms of railway tracks that comprise the suburban network.
Kaushik said, with 102 cases per officer in GRP, as compared to nine cases per officer posted with Mumbai police, prevention of crime is difficult.
Apart from shortage of man power, in the latest audit carried out by the GRP and Railway Police Force (RPF), they had identified 28 issues including positioning of CCTV cameras and infrastructural short comings.
In spite of additional CCTVs and upgradation of equipment and technology for RPF, an integrated security system is needed. Kaushik said that the first step to crime control is to find out the actual estimation of crime.
In 2016, Kaushik asked his officers to register all mobile theft cases as FIRs, which were earlier being registered as missing compliants. "In 2017, the GRP registered 25,000 cases as compared to 5,000 the year before, as all mobile, wallet theft and bag snatching cases were recorded as FIRs instead of missing complaints," he said.
In 2015, there were seven cases of Narcotic Drugs and Psychotropic Substances (NDPS) cracked by the GRP compared to 473 in 2017. The GRP has also started an integrated and 24x7 helpline – 1512, which gets around 200 calls daily. "Heinous crimes have shown a sharp decline due to these measures and now we will post one constable in the three ladies compartment of every train during non-peak hours," said Kaushik. He said after violent crimes were reported, they had posted two teams from each police station to patrol the vulnerable points, where members of the 'fatka' gang hid on poles and struck commuters standing at the door of trains. The GRP had also taken action of over 3,000 record criminals and found out their whereabouts to keep a check. However, the officers found that many new and juvenile thieves had emerged and they were no longer hiding behind poles.
"We found that the robbers stood anywhere near the tracks and hit commuters randomly and then disappeared into the adjacent slums or mangroves making it difficult to trace them," said Kaushik. But after a detailed analysis and to ensure safety of commuters, the railway police have asked for more staff to prevent crimes such as violent thefts, molestations and to curb menace of bullies. An addition of 200 state security force officers along with 1,500 home guards has been sanctioned to man the trains and premises with the GRP and RPF officials. But for now, the police have to rely on conventional methods. The GRP has written to the government and Railways, to provide 3,500 additional manpower.
Close Story