Warning issued about threat to India's maize crop from invasive worm
Updated on Aug 08, 2018 09:58 PM IST
The Indian Council of Agricultural Research on July 30 issued a 'pest alert' based on results of surveys conducted between July 9 and July 18 that recorded more than 70% prevalence of the Fall Armyworm (Spodoptera frugiperda) in a maize field in Chikkaballapur, Karnataka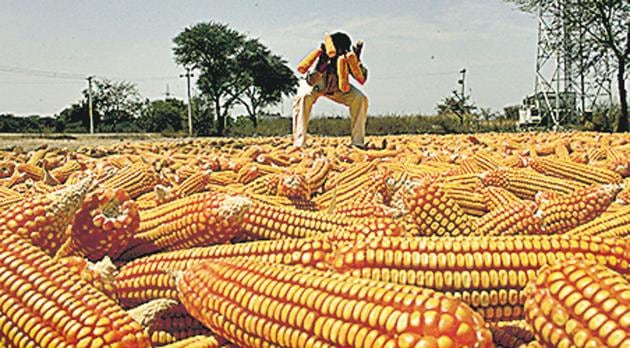 The Fall Armyworm – a crop-eating devastating pest native to the Americas - has made its entry into maize fields in India, raising food security concerns across Asia if the pest attack is not controlled immediately.
The Indian Council of Agricultural Research (ICAR) – National Bureau of Agricultural Insect Resources (NBAIR) on July 30 issued a 'pest alert' based on results of surveys conducted between July 9 and July 18 that recorded more than 70% prevalence of the Fall Armyworm (Spodoptera frugiperda) in a maize field in Chikkaballapur, Karnataka. Molecular identification of the larvae matched with the insect's genetic sequence database from Canada and Costa Rica.
India produces more than 20 million tonnes of maize every year, with the highest area under cultivation in Karnataka. Scientists at ICAR said the pest has spread in eight or nine districts of Karnataka such as Shimoga, Bellary, Belgaum and Hassan with up to 35% damage to 20-25 day young crops, and attacking even the tassel of the mature maize yields.
At present, only the maize crop has been under attack from the worm. "But there could be an outbreak with high rainfall, more cloud cover, and low temperatures as the insect's ability to hatch increases with such a weather pattern," said AN Shylesha, principal scientist, ICAR-NBAIR, , who conducted the survey. "So the next two to three monsoon months are crucial."
The pest, managed in the US for a century, was first detected in Nigeria in 2016 and has since spread to 40 African countries causing massive destruction to the maize crop, also known as corn, which is their most important staple food.
While it is believed the pest made its way from South America into Africa via sea or air cargo, scientists at ICAR-NBAIR said it is difficult to trace its arrival into India. It was through a general survey on different maize pests that the existence of the Fall Armyworm in Karnataka came to the fore.
"We found that while one worm was similar to Mythimna Separata (Oriental Armyworm), which is native to India in terms of crop damage, its larval characteristics were different. We therefore collected more of this new specie, reared them to adult stage in the laboratory and also conducted molecular identification to infer the first record of the Fall Armyworm in India," said Shylesha.
He added that the pest has been present in India for the past few years, but went unnoticed. "We got fooled by its similarity to Mythimna Separata, and therefore overlooked."
In addition to maize, the pest can eat more than 80 plant species including rice, sorghum, cotton and sugar cane.
"It is likely that the Fall Armyworm arrived in India from Africa through human-aided transport, and escaped the regulatory systems or quarantine in India. Natural migration is also a possibility as it can fly hundreds of kilometres in one night on prevailing winds," said Gopi Ramasamy, country director for India, Centre for Agriculture and Biosciences International (CABI), a not-for-profit intergovernmental development organisation that has developed and implemented a response action plan to tackle the pest in Africa.
Ramasamy added, "If it is come to India, it can also spread to south Asian countries owing to suitable climatic conditions and the prominent cultivation of maize in the region. Controlling its spread is tough, and therefore mitigation measures need to be implemented immediately."
Shylesha, however, said there was no need to panic at the moment. "There are several predators such as the stem borer that feed on this worm. Additionally, chemical and mechanical control measures adopted by the farmers are working at the moment," he added.
What is Fall Armyworm?
Fall Armyworm or Spodoptera frugiperda is an insect native to tropical and subtropical regions of the Americas where they primarily attacked maize crops during the autumn months
It was first detected in Central and Western Africa in early 2016
In the larva stage, the insect causes damage to crops, feeding on more than 80 plant species
Fall Armyworm (FAW) primarily affects maize, but also rice and sorghum as well as cotton and some vegetables
The moth can fly up to 100km per night and the female moth can lay up to a total of 1,000 eggs in her lifetime
In the Americas, farmers have been managing FAW in their crops for centuries and researchers have been studying it for decades
Source: Food and Agriculture Organisation of the United Nations
Close Story
Personalise your news feed. Follow trending topics