Water in Mumbai's Mithi river, Versova beach dirtiest, 13 times above safety limit
Updated on Jun 27, 2017 10:09 AM IST
MPCB officials said 30% of the city's sewage is not being treated and ends up in the seas through outfalls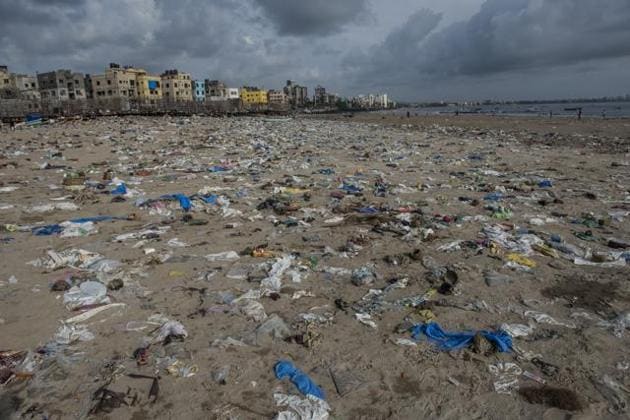 The water at the mouth of the Mithi river and Versova beach is the dirtiest, with pollution levels almost 13 times above the safe limit, an assessment by the Maharashtra Pollution Control Bound (MPCB) found.
The water near the Gateway of India, Girgaum Chowpatty, Nariman Point, Juhu beach, Mahim Bay, Worli Sea Face, Dadar Chowpatty and Malabar Hill was listed under the 'bad' category, which meant it was polluted, while Mithi and Versova had 'very bad' water, which indicates heavy pollution.
The analysis found that the biochemical oxygen demand (BOD) — oxygen levels needed for marine organisms to survive – was 250 milligram per litre (mg/l) at Mithi, which is almost 13 times higher than the safe limit of 20 mg/l laid out by the Central Pollution Control Board (CPCB). Additionally,a BOD reading of more than 3mg a litre is unfit for human consumption and above 6 mg a litre is unsuitable for fish, according to CPCB guidelines. Untreated industrial waste pumped out by effluent treatment plants from industrial areas and domestic waste from residential areas are responsible for the high levels of pollution, officials said.
Read more
Versova beach cleaned up, but residents brace for immersion garbage
UN award to Mumbai lawyer for largest beach clean-up
MPCB officials said 30% of the city's sewage is not being treated and ends up in the seas through outfalls. "There are hardly any industries in Mumbai so the main source of sewage is domestic waste. As the quantity discharged in these coastal areas is voluminous and there is no treatment, the required dilution level is not happening and the figures indicate this," YB Sontakke, joint director, water quality control, MPCB. "The civic body has an action plan ready and they have informed us that by 2020, 90% of the city's sewage will be treated daily."
According to the Brihanmumbai Municipal Corporation's (BMC) sewage operations department, the city produces sewage amounting to 2,200 to 2,400 million litres a day (MLD). Of this, the civic body treats 1,500 MLD at Bhandup, Ghatkopar, Versova, Malad, Colaba, Worli and Bandra sewage treatment plants (STPs). Of the remaining 700-900 MLD, private STPs are treating some of the sewage at hotels and housing complexes, while the remaining is being dumped in rivers, streams, creeks or directly into the sea.
On Tuesday, citizens' group Watchdog Foundation filed complaints with the pollution board and municipal corporation regarding the pollution problem. "Pollution at coastal areas has led to a drop in the number of fish and other marine life. We can conclusively say the fish Mumbaiites are eating is highly unpalatable," said Godfrey Pimenta, trustee, Watchdog Foundation
"Mithi has a major pollution issue because the slums on either side of the river are dumping waste directly into the water body. Apart from our Bhandup plant that does double level treatment, the remaining plants are doing primary treatment," said a senior official from BMC's sewage operations department. "An action plan has been submitted with the state government and all our STPs will be upgraded soon. There will be noticeable change in these figures by next year."
Read more:
This lawyer spearheaded the world's biggest beach clean-up at Versova
Beach clean-ups in Mumbai inspired global Clean Seas campaign: UNEP head
Personalise your news feed. Follow trending topics