Far-off oceans fuelling heat wave
Apr 27, 2016 12:32 AM IST
Unbearable hot winds not result of global warming but gaining power from North Atlantic and Pacific oceans
Heat waves over India have their origin as far as the North Atlantic and Pacific oceans and are not just an outcome of global warming. A five-member team from Application Laboratory of Japan Agency for Marine-Earth Science and Technology (APL-JAMSTEC) and the Indian Institute of Tropical Meteorology (IITM), Pune, has identified two major types of heat wave patterns — one that affects major parts of the Indian subcontinent, including north-central India, and the other affecting only the eastern coastal regions of India.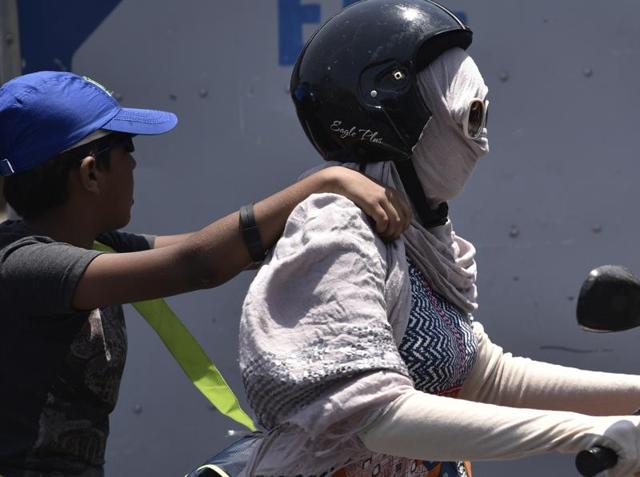 Researchers said the study, based on an analysis of temperature data from the India Meteorological Department (IMD), will be useful for understanding the processes, which sustain the heat waves over India, and help in forecasting them sufficiently ahead of time to help the local authorities to mitigate mortalities associated with heat waves.
The first kind of heat waves that affect large parts of India, according to the paper "Anatomy of Indian Heatwaves" published in Scientific Reports this month, is a result of an atmospheric phenomenon called "blocking" in the North Atlantic. This phenomenon was also found to be the cause of heat waves over India during May 2015 that killed 2,248 people according to EM-DAT, the international disaster database.
Blocking is an atmospheric high pressure system that puts brakes on the movement of migratory weather patterns, and stays stationary for several weeks as against the conventional time frame of a few days. According to researchers, these "blocking highs" that stay over a place for several weeks are usually connected to large-scale climate phenomena such as the El Nino in the tropical Pacific Ocean.
"The associated anti-clockwise-rotating wind pattern over India in lower levels helps in transferring dry hot air from the north-west India into the subcontinent leading to heat waves," said JV Ratnam, senior scientist, JAMSTEC.
"We had a super strong El Nino last year that still lingers in the central Pacific Ocean in its decaying phase. Perhaps it is responsible for the heat waves in India now," he said.
The second type of heat waves that affect the east coast of India are found to be directly related to responses to deviations in normal sea surface temperature in the equatorial Pacific — referred to as Matsuno-Gill response after the classical works of Matsuno (1966) and Gill (1980). "Essentially, the land-sea breeze, which transfers moistures into landmass and cools the region, is reduced because of winds blowing out of Indian landmass. Due to the lack of cooling affect the coastal areas experience heat," said Ratnam.
"Exciting news! Hindustan Times is now on WhatsApp Channels
Subscribe today by clicking the link and stay updated with the latest news!"
Click here!