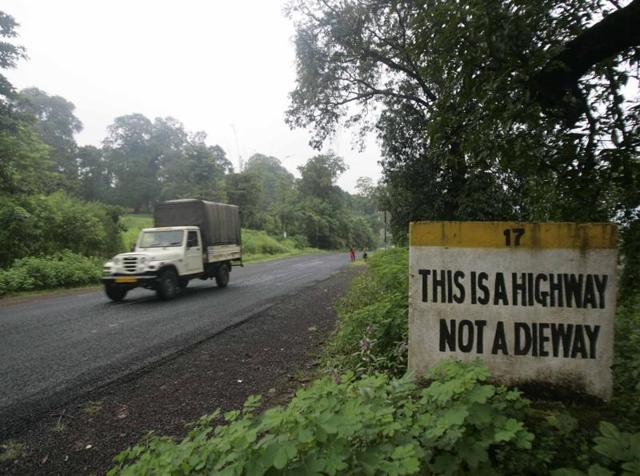 Mumbai-Goa highway sees over 1,000 deaths a year
More than 2,000 people were injured in accidents on the highway in the past three years
UPDATED ON MAY 16, 2016 11:53 PM IST
The Mumbai-Goa stretch of NH-17 has turned into a killer road over the past few years, thanks to the authorities' apathy.
Sunday's accident which killed seven people from Dombivli has again highlighted the unsafe and ill-maintained highway. The family of six was travelling in their hired car when the driver lost control and collided with a bus at Indapur near Mangaon in Raigad district. Five of them died on the spot and the rest succumbed to their injuries during treatment.
Due to lack of timely action to maintain and improve the existing infrastructure, more than 1,000 people die in accidents on the busy highway every year.
According to sources from the state highway traffic police, 3,358 accidents took place on the road between 2013 and 2015, killing 580 people. In 2013, the road witnessed 1,186 major accidents, in which 201 people lost their lives.
Read more Six killed as car collides with bus in Maharashtra's Raigad
A total of 205 people died in 1,084 accidents in 2014. Last year, 174 people died in 1,088 accidents.
More than 2,000 people were injured in accidents in the past three years.
Sunday's accident took place at one of the 55 extremely dangerous spots identified by the Raigad police in a survey last year.
"The two-way road, which has no dividers, is very narrow at several places with numerous sharp turns. Lohar Mal is one of the most accident-prone areas. Lonere stretch, Sukheli village and Pui village see accidents almost every other day," said Manoj Mhatre, traffic in-charge of Raigad district.
The Raigad police conducted the survey only in their jurisdiction. Therefore, the number of dangerous spots would be much more on the 475-km highway.
According to Mhatre, most accidents take place because of overtaking. "As there are no dividers, vehicles veer to the other side of the road while overtaking and end up colliding with vehicles coming from the opposite direction," he said.
The National Highway Authority of India has started widening the road by demolishing the structures on either side of the stretch. The project has narrowed the road, making driving a nightmare.
Suzez Haque, superintendent of police (Raigad district), told Hindustan Times that accidents have increased because of the road-widening work. Deploying more traffic personnel has not been of much help. "We hope the project gets over as soon as possible," he said.
The pace of the road-widening work is extremely slow. "Except for two to three places in our jurisdiction, the entire stretch in Raigad has been neglected," the police said.
Around 14 kilometres of the highway (between Panvel and Kharpada) are in the jurisdiction of Navi Mumbai police. On an average, 25 accidents take place on the stretch every year.
Anil Sakpal, police inspector of New Panvel unit, said: "Most accidents take place because of drink-driving, careless crossing and speeding. The narrow road is one of the major causes of accidents. We regularly conduct drives among motorists to curb accidents."
Close