No TV Weekend: All play and no work
Hindustan Times |
Antara Sengupta
May 28, 2016 12:26 AM IST
Give your routine a twist this No TV Weekend and try your hand at Warli painting, a strategy game or even skateboarding
Swap the sun for some snow, watch dawn break from the governor's bungalow or spend a day with the birds and the bees — there's an adventure out there for everyone this No TV Day weekend.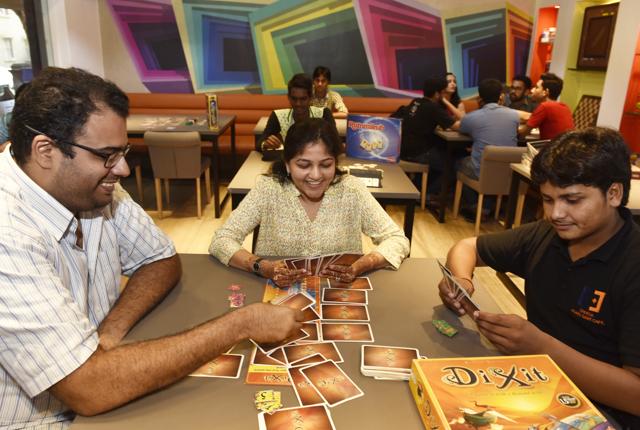 Go skateboarding at the Khar Social, head to a bar that's also a library, or snack at a café that offers board games from around the world.
If you're more of an outdoorsy person, jet off to Alibaug to see a new biodiversity park home to 500 species of flora and fauna, enjoy a traditional thali meal at the home of an Adivasi inside Aarey Milk Colony, or visit the little-known Khanderi island off the coast of Alibaug.
So pick your destination, pack your essentials and go explore the unexplored.
Indoors: Try cafés with a difference
1) Take the stage
Launched in Khar earlier this month, Tuning Fork is a café / recording studio / performance space where anyone can walk in and perform, or take a seat and listen.
For Rs 600, you can record a demo — and get food coupons for the sum you have paid.
For free, you can walk in and enjoy music, stand-up comedy, theatre, poetry and karaoke performances.
Saturday will see a live gig by indie singer-songwriter Vernon Noronha at 8.30 pm. On Sunday, Shanay Shah and Rushabh Adhye of The UkeBox Project will perform on ukulele, guitars and cajon, at 8 pm.
"I have visited the place twice with my friends and we loved it," says Ayushi Garg, 26, a marketing executive from Chembur. "The first time we saw a comic act and the second time it was a city-based band. The food is good and the performances only enhanced the experience."
Call: 98333-58490, visit facebook.com/tuningforkstudios
2) Roll the dice
Think you're a gamer? Think again. The six-month-old Creeda café at Fort offers 200 games from around the world. So many, in fact, that founder Riddhi Dalal and her four 'gaming gurus' help newcomers navigate the maze and decide whether to test their strategic skills with Catan, raise the fun index with party game Anomia, play numbers game Rummi Kub or gamble at a fake mini-casino board game for fake dollars.
There's a basic menu so you have something to chew on while you play — air fries, Maggi, mini pizzas and sandwiches.
"My friends and I were looking for a café around Fort area when we stumbled upon Creeda online. We've been back so many times since then," says Koustubh Bhave, 27, an MBA graduate. "The staff there really help with game selection."
Cost: Rs 200 per person per hour; Rs 500 for the full-day package of 10 hours
Call: 3015-1987
3) Raise the bar
At Mockingbird Café Bar in Churchgate, the waiters can recommend the perfect book to go with that glass of red. "You can simply lounge here all day, taking breaks for thin-crust pizzas, burgers and baguettes, then returning to the reading alcove to revisit your personal favourites," says owner Deepak Purohit.
Freelance writer Fareeda Kanga, 42, from Cuffe Parade can vouch for the ambience. "The place has a very casual and laid-back atmosphere," she says. "The staff are very helpful and the food is definitely value-for-money."
Call: 6022-6023
4) Ramp it up
The Khar Social has Mumbai's only skateboard ramp, so go crazy there if you like to glide, or watch with your heart in your mouth as others take the plunge.
"The inspiration for the skate spot emerged during a trip to Dharavi, where we saw local boys gliding by on homemade boards," says restaurateur Riyaaz Amlani. "We realised the city didn't have a dedicated space for skateboarders — just Marine Drive or BKC, which are not always safe. This spot aims at bringing passionate people to a community-centric space giving them complete freedom to skate, make new friends and possibly break socio-economic barriers."
So access to the ramp is free. "I love skateboarding and have been doing it at BKC for more than five years but the roads aren't really smooth enough for a board," says Sagar Waghale, 22, a resident of Dharavi. "It's good to finally have a ramp. Plus, we have monthly skate meets here now and it feels great to meet other enthusiasts and share tips and tricks."
Call: 6522-6324
Outdoors
5) Lunch under the trees at Aarey Milk Colony
Enjoy a meal of ragi rotis, stuffed eggplant, chicken curry and fried bombil, paired with kokum sherbet — made on wood fire by tribal residents of Aarey Milk Colony, in an event organised by NGO WWH Trust. Guests sup in the shades of a mango tree in the backyard of mud huts.
If you get there early, you can help pick fresh vegetables from a nearby farm. You can also try your hand at Warli painting, get mehendi on your palms and shop at handicraft stalls.
"I attended the previous lunch and fell in love with the overall experience," says 58-year-old homemaker Cecilia Patel from Marol, who is headed here again this weekend. "The food is simple but delicious; you feel completely at home. It's a great break from the humdrum of everyday life, and it's right here in the city."
When: Sunday, 1 pm
Cost: Rs 300 per adult; Rs 250 per child under 12
To register, call 98202-24450 or go to wwhtrust.org/news_event
6) Head to a lighthouse and sea fort on a remote island
A 45-minute jetty ride separates Kandheri fort from the mainland, making it one of the least-visited fortifications in the state. This weekend, take that jetty from Alibaug's Thad village and wander among the crumbling stone walls, up into the 150-year-old lighthouse.
"It's a really nice place to take pictures. You have a fantastic view of the ocean from there," says Amey Bhagat, 31, a trekking enthusiast from Panvel.
There is a washroom and drinking water available in the fort, but take your own snacks.
Cost: Rs 5 for a local guide; Rs 10 for a camera; entry is free.
7) SP Native Biodiversity Garden, Alibaug
Spread over 1 acre on the edge of Teenvira Dam, the SP Native Biodiversity Garden in Alibaug lets you wander among hundreds of specials of flowers, medicinal plants, butterflies and insects.
"There's a section on Western Ghat species, featuring some extremely rare plants," says Niharika Goenka, a research assistant with the Center for Environmental Research and Education (CERE), the NGO that manages the park and organises free guided tours for visitors.
Where: Poynad, a 30-minute ride from the Mandwa jetty
Timings: 9 am to 5 pm
Call: 2381-1522
Entry is free
ALSO CHECK OUT…
1) The Sunrise Gallery at Raj Bhavan: A sea-facing deck offers a rare, breathtaking view of the ocean and Marine Drive from inside the premises of the Governor's official residence.
When: Saturday and Sunday, 6.15 am to 8 am
Entry fee: Rs 25
To register, go to rajbhavan-maharashtra.gov.in
2) Snow World at Smaash: Go sledding, throw snow balls and make igloos inside Smaash's new Snow World at Kamala Mills, Lower Parel.
When: Saturday and Sunday
Cost: Rs 400 for 20 minutes; Rs 500 for half an hour