Plight of senior citizens: No strength in numbers for them
Updated on Aug 17, 2015 08:57 PM IST
Mumbai has around 1.5 million senior citizens – almost the entire population of Patna. Yet, despite their large numbers, senior citizens do not get the attention and help they deserve.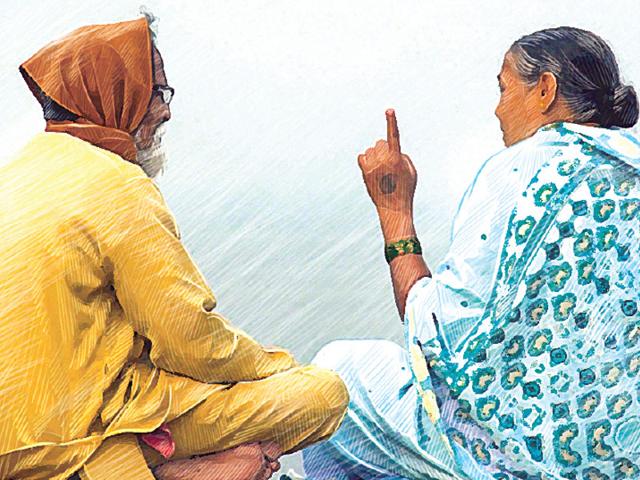 Recently, newspapers in Mumbai reported the story of an 85-year-old woman who was thrown out into the street from a car allegedly by her son. When the police found it difficult to trace her family, they sought the help of volunteers. "We went to GT Hospital to meet her," said Dr SP Kinjawadekar of the Federation of Senior Citizens Organisations. "She has dementia. This kind of abuse is going to be a common problem, especially if the senior citizen is ill."
Mumbai has around 1.5 million senior citizens – almost the entire population of Patna. Yet, despite their large numbers, senior citizens do not get the attention and help they deserve. "Yes, life has changed for seniors across the board, but this is not necessarily a positive change. The gap between the haves and the have-nots has increased," said Aarti Rajan Menon, deputy editor, HarmonyCelebrate Age, a magazine for seniors..
The statistics speak for themselves. Digambar Chapke of the All India Senior Citizens Federation estimates that seven out of every 10 senior citizens in the country live in poverty. "Of the more than 100 million senior citizens, 70 million have retired from the unorganised sector and have no pension or social security. Another five million worked in the organised sector — but in one of the 108 industries that have provident fund. The pension given to these senior citizens is inadequate. So in total, 75 million people have no social security," said Chapke.
After poverty, abuse — both physical and verbal — is the next biggest problem the elderly face. In 2014, a three-year-long study by the group Helpage India estimated every second senior citizen faced abuse from relatives. The study, which covered 12 cities, including metropolitan centres, said there has been a marked increase – from 23% in earlier studies to 50% — in the percentage of elders who said they were abused.
According to Prakash Borgaonkar, director, HelpAge India, the rise in numbers could be because more senior citizens are mustering up the courage to report abuse. "We are happy that more people are reporting abuse," said Borgaonkar. "The problem of cruelty has always been there, but elders did not report it because they feared their children."
HelpAge India's study showed that, like in the case of the octogenarian, the son, along with the daughter-in-law, was increasingly becoming the abuser. In 61% cases, the daughter-in-law was the main perpetrator of domestic abuse. The son was the culprit — to use Borgaonkar's description — in 59% cases. The study also debunked the old argument that elder abuse is largely a western and metropolitan phenomenon. There were only 4% fewer respondents reporting abuse in small towns compared to large cities.
The study said economic and emotional dependence on the abuser has been cited as the major reasons for abuse. Not surprisingly, nearly 28% of the respondents to the study said increased economic independence was the most effective way to deal with abuse. In Mumbai, 32% said becoming economically independent was the best defence against abuse.
This determination to remain economically independent also means people are working longer into their lives. "A lot of them do not take the idea of retirement at face value. After retiring from a job they take up another. People work independently, so there is no retirement," said Natasha Rego, a writer at HarmonyCelebrate Age.
For those who continued to work after retiring from long-held jobs, the rewards are good. KS Venkateshwara, 86, worked in a multinational bank for 28 years before spending another 23 years in a legal firm as a consultant. "I saw more money as a consultant than as an officer in the bank," said Venkateshwara, who stays with his wife in Sion, while making regular visits to his son who works in a senior position in a Jakarta bank.
Another change is the breaking up of the Indian joint family that traditionally consisted of members from three or more generations. According to Menon, the decline of joint families has impacted senior citizens from different economic groups in distinct ways. "For wealthy families, the breakup of the tradition is more an emotional issue than a financial one. But for poor senior citizens, the breakup of the joint family is the end of financial security. Inflation wipes out their savings and there are few investment avenues," said Menon. For those with investments and regular incomes, old age homes with modern facilities are coming up all over the country. According to Ankur Gupta, joint managing director, Ashiana Housing, which has built retirement homes in the National Capital Region (NCR), around a thousand units in the premium category – prices for which go up to Rs1 crore – are constructed every year. Though the numbers are miniscule compared to the population of senior citizens, Gupta said the numbers could go up substantially in the next few years. "We have not reached a tipping point; once that happens, the numbers could go up by 200% to 300% every year," said Gupta.
Apart f rom NCR, the ChennaiCoimbatore region, the hilly and green outskirts of Pune and suburbs of Kolkata are new locations for these homes. "There is a certain class of people who can live independent lives. Products that help independent assisted living are coming up, but at a price," said Rego.
According to Chapke, the number of senior citizens who opt to live alone is low – 4-5%. "Only those who are well off and can afford servants and geriatric care have this option," said Chapke. A customer for a retirement home built by Ashiana Housing typically has a monthly income of between Rs40,000 to Rs1,00,000 from pensions and investments. Only a small percentage of the country's senior citizens can afford these facilities. "But what about people who do cannot buy these services?" said Kinjawadekar.
In 2007, the Parliament passed the Maintenance and Welfare of Parents and Senior Citizens Act. The act requires the government to set up homes for senior citizens in every district; each home is supposed to provide free accommodation and care for 150 people. "The act has been barely implemented; we have been asking the government to set up these homes," said Kinjawadekar.