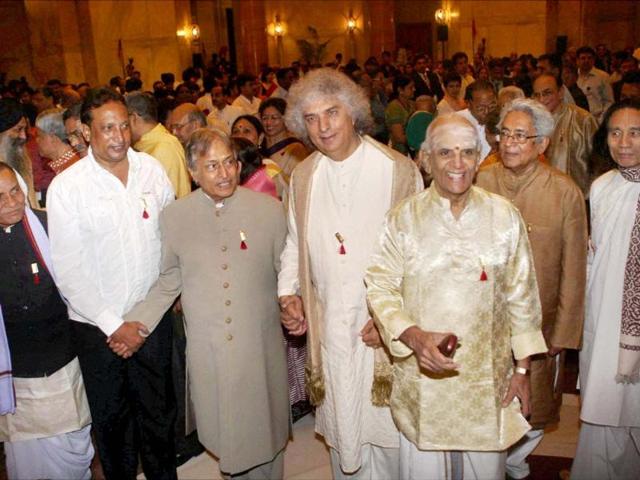 Stalwarts congregate at Indian classical music festival
Three-day Indian classical music festival that starts in the city today will see performances by popular names from the genre
Hindustan Times | By Soumya Vajpayee
, Mumbai
UPDATED ON JAN 03, 2013 02:03 PM IST
Continuing the music season from last year, 2013 has a lot in store for Indian classical music lovers. The first week of the new year itself is seeing a concert by stalwarts of the industry in a three-day festival.
Called Swaranjali, the event's artiste line-up comprises Ustad Amjad Ali Khan, Pandit Shiv Kumar Sharma, Pandit Mukul Shivputra, Pandit Vikku Vinayakram, Selva Ganesh, Taufiq Qureshi and Aditya Kalyanpur, among others.
It has been organised by the Swaraprabha Trust to pay tribute to popular Hindustani classical vocalists Pandit Suresh Haldankar, Pandit Jitendra Abhisheki and Pandit CR Vyas.
"It will be my first concert of the year and there cannot be a better way of starting the year than performing with my father (Pandit Vikku Vinayakram), who's also my guru. We'll decide the flow of the performance on the stage itself," says kanjira player Ganesh, who'll be performing on January 4 and will be accompanied by percussionist Taufiq Qureshi and tabla player Aditya Kalyanpur, for a rare ensemble. "I've performed for Swaranjali earlier but this year will be a combination of various instruments from across the world, producing different rhythmic patterns. I'm hoping it will attract young people," says Kalyanpur.
Talking about the performance, Qureshi says, "The ensemble is called Taal Vadya Kacheri. The performance will have two north Indian recitalists — Aditya and myself from the Punjab gharana; and two south Indian performers, Vikkuji and Selva Ganesh. So the repertoire will be versatile. I'll be playing an African instrument, Djembe, in a classical style." Besides their performance, Pandit Mukul Shivputra will also present popular classical numbers.
"Mumbai is very close to my heart and I always look forward to a concert here. This is the first time I am performing for Prabhakar Karekarji's organisation.
I'll be presenting rare compositions," says Ustad Amjad Ali Khan, whose sarod performance will conclude the festival.
Close