3 Greater Noida men stole KYC info, dupe banks of
₹

10 crore, arrested

Police said two of the three suspects worked as private vendors with a third party agency hired by telecom companies and private banks.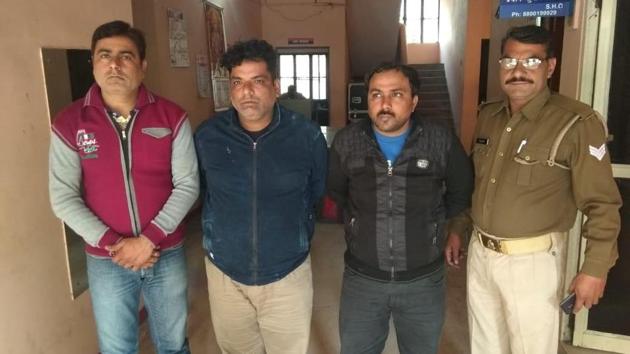 Updated on Mar 11, 2019 02:50 AM IST
The Noida special task force (STF) arrested three persons for allegedly acquiring over 1,000 credit cards from various banks based on personal details stolen from various persons and making purchases with the cards worth at least ₹10 crore, in the national capital region.
The suspects were arrested from Greater Noida on Saturday night in an operation by the Noida team of Uttar Pradesh Police's STF, after a complaint was filed by an SBI bank customer, who had alleged a fraud of ₹5 lakh.
According to the police, the suspects had allegedly managed to acquire over 1,000 credit cards from different banks across the national capital region in the past three years by stealing the know-your-customer (KYC) details and other information of bank customers and other persons.
Police said two of the three suspects worked as private vendors with a third party agency hired by telecom companies and private banks. "Acting on the complaint, we arrested three men – Bhupendra Soni, Teerath Rathore and Chandra Prakash. The suspects used to get credit cards issued from banks through fraudulent means and then swipe them in an end of day-point of sale (EOD POS) machine to the maximum limit of the respective credit card for cash. They used to destroy the cards after that. During interrogation, they revealed that they had been doing this fraud since the last three years and defrauded various banks to the tune of Rs10 crore," Raj Kumar Mishra, additional superintendent of police, STF, said.
Explaining the functioning of EOD POS machines, Mishra said, "EOD machines are issued by telecom companies and banks for transaction purposes where an amount can be transferred to another person's account via electronic transfer."
According to the police, the EOD machine took the suspects 2-3 turns to max out a credit card, on an average. Mishra said the role of third party vendors cannot be ruled out as, according to perks offered by banks, each vendor getting a credit card issued for a customer on behalf of the bank receives 4-5% commission whenever a credit card is maxed out.
Police said all three suspects are from Delhi – Soni is a resident of Uttam Nagar, Rathore is a resident of Mangolpuri and Prakash is a resident of Rohini. They were booked under IPC sections 420, 467, 468, 471 for fraud, forgery of valuable security, forgery for purpose of cheating and using a fraud document as genuine, respectively.
Eight aadhar cards, 36 credit and debit cards, , seven passbooks, eight cell phones and documents containing KYC details of thousands of customers, along with other banking documentation were also recovered.
Police said the complainant, Pravin Kumar Purohit had alleged that a transaction worth ₹5 lakh has been done on a credit card issued under his name.
Police said an SBI credit card issued in the name of Purohit and a total of ₹5 lakh were withdrawn in three transactions. It was only after the bank served a notice to Purhohit that he got to know about it. Police said they received a tip-off from an informant regarding the activities of the suspects and they were picked up.
Police said each of the suspects had specific roles in the matter.
"Soni was the mastermind behind and he had worked with several mobile companies and banks in the past. His job back then was to fetch documents from customers and he used his contacts to illegally acquire personal information of the victims. Rathore worked as a sales manager at a TVS showroom in Mangolpuri of Delhi and was assigned to acquire documents related to KYC process in the issue of credit cards. Prakash worked in Intelenet, a third party agency hired by banks where his job was to visit the house of customers who applied for credit cards to initiate the process. Prakash used to forge entries of his field assignments for the issue of credit cards for the gang," Mishra added.
Topics
Close Story