4 arrested for extortion, planning murder in Noida
Hindustan Times, Noida |
HT Correspondent
Sep 24, 2018 04:53 AM IST
Dadri Police on Saturday night arrested four men, allegedly wanted in an extortion case, following a brief encounte
Dadri Police on Saturday night arrested four men, allegedly wanted in an extortion case, following a brief encounter. Stating that the four were planning a murder in the next couple of days, police said three countrymade pistols have been recovered from their possession.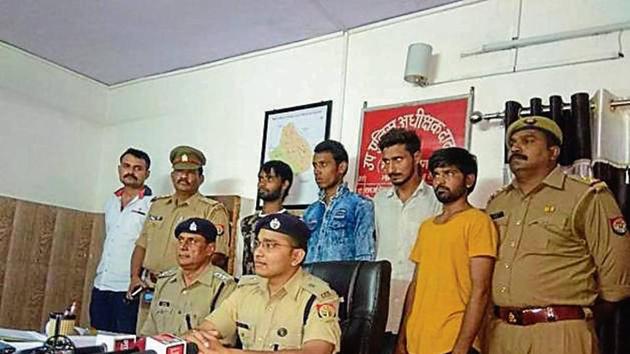 According to police, prime accused Suprendra and his three friends, all of whom are residents of Dadri, had tried to extort ₹5 lakh from the owner of a medical store in Dadri.
"Claiming to be members of a gang, the accused had, on August 11, asked the owner of a medical store to pay them ₹5 lakh as protection money. However, when the medical store owner, Pramod Kumar, refused to meet their demand, the accused threatened to harm him. Soon after, Kumar filed a case with the Dadri police," Vineet Jaiswal, superintendent of police (rural), said.
Jaiswal maintained that the four were given the idea for extortion by one Neetu, who is currently in jail for the murder of a substation officer of the power department in Dhoom Manikpur on April 20. He is also booked under the National Security Act.
"The accused were looking to make a fast buck. Neetu gave them the idea of extortion. They had met Neetu in jail while they were serving term for a prior crime," Jaiswal said.
In addition to the extortion attempt, the accused had also been involved in a murder attempt in April. "Supendra had roped in his accomplices to shoot his brother-in-law following a dispute between them. However, the man survived and a case had been registered. The trial of the case was on in court and Supendra was trying for a compromise. However, the other party was not interested in that. As a result, Supendra was planning to murder him. We had information from a credible source that the accused were planning to murder the man within two-three days," Jaiswal said.
Police said the accused were arrested following a tip-off during routine checking at Bisahda road underpass in Dadri.
"The accused had also fired at the police team in order to escape," the SP said.
Police said the accused are all in their mid twenties and do not come from very educated backgrounds.
"They have been in jail on previous occasions and have multiple cases of vehicle theft registered against them in Delhi and NCR," Jaiswal said.
The accused were produced before a magistrate and later sent to jail.