Ayurveda doctor among 7 arrested for looting medicines, equipment worth Rs 2 crore in Ghaziabad
One of the arrested men is an ayurveda doctor who used to sell the looted medicines through his medical store.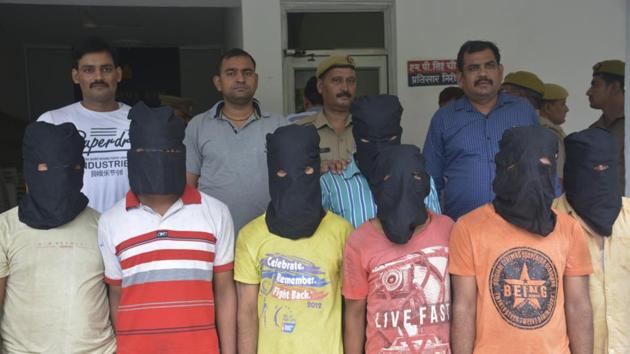 Updated on Sep 05, 2018 11:30 AM IST
The Ghaziabad police on Tuesday arrested seven members of a a gang of 10, including a BAMS (ayurveda) doctor, on charges of looting a truck loaded with medicines and medical equipment worth nearly Rs 2 crore in Bhojpur on the night of August 13.
The police identified the doctor as Anil Kumar, a resident of Mandoli in Delhi and a native of Khekra in Baghpat district of western UP. The other six arrested were identified as Sanju Kumar, Surendra Kumar, Ombir, Rishi, Mohammad Aslam and Sonu.
The police said the truck left the Partapur warehouse of the company for Agra on the night of August 13 .
"Midway, the truck was looted in Bhojpur area of Ghaziabad as members of the gang followed the vehicle from the warehouse on their motorcycles and in a car. The goods were offloaded and loaded in mini trucks and taken away. However, a detailed investigation led the police to the accused and all seven were arrested," Vaibhav Krishna, senior superintendent of police, said.
"The doctor has been an accomplice of the gang and the gang had also been supplying him medicines and medical equipment which he sold through his medical store. They performed a recce of the warehouse and planned the loot. The gang was also involved in a similar loot in Haryana wherein 100 cartons of medicines were stolen a couple of months ago," SSP said.
Police sources said the gang members belong to a particular tribe and disposed of the looted medicines and medical equipment to the doctor. The doctor kept 30% commission while the gang members shared the remaining 70%.
Police sources said the looted truck and several cartons of medicines were found dumped in Raj Nagar Extension a day after the robbery.
Following the arrest, the police recovered medicines and equipment worth Rs 1 crore and also recovered two mini trucks and an Eeco van from the accused. The gang was arrested from Datodi Chowk in Bhojpur. The police said that the remaining members of the gang— Ashok Yadav, Lallu Kumar and Dharam Singh— are on the run.
The seven accused have 25 cases of loot and cases of Arms Act against them at different police stations in Ghaziabad and Delhi, police said.
Close Story