Dadri lynching: A year on, charges yet to be framed in Fast-Track court
A year later, HT revisits the fateful night when 55-year-old Mohammad Ikhlaq was lynched and his son Danish was critically injured in a mob attack.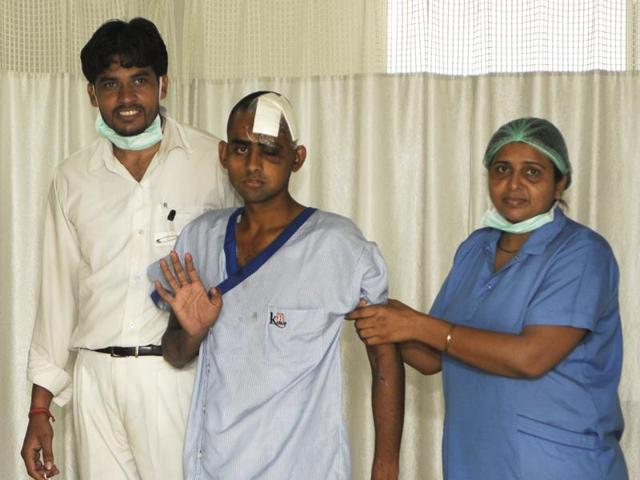 Updated on Sep 27, 2016 01:18 PM IST
Twelve months back, the quiet village of Bisada in Dadri tehsil of Greater Noida, nearly 50 km from Delhi, hit the headlines of virtually every newspaper and TV channel.
A Muslim man was lynched over allegations of slaughtering a cow, revered as a holy animal by Hindus, and storing its meat for consumption. The incident triggered nationwide outrage over intolerance with several prominent personalities returning national award as a mark of protest.
A year later, HT revisits the fateful night when 55-year-old Mohammad Ikhlaq was lynched and his son Danish was critically injured in a mob attack.
On the evening of September 28, two young men, Vishal and his cousin Shivam, allegedly found remains of an animal, and claimed it was of a cow. They checked with other villagers and somebody told them that the remains in polythene bag was dumped by Ikhlaq a day earlier. The duo went to a nearby temple and made an announcement, accusing Ikhlaq of slaughtering a cow.
Recalling the horrific night, Ikhlaq's daughter Shaista said: "A large mob gathered outside our house. My father was on the upper floor from where he asked why had they come.
"The crowd, that included Shivam, Sandeep, Arun, Saurav, Garuav, Vishal, Shriom, Hariom, Sonu, Ravin among others barged into our house," Shaista said.
She said Vivek was carrying an iron rod and the rest were carrying sticks and other 'weapons'.
"Father (Ikhlaq) ran for cover and hid in a room on the upper floor. The mob broke opened the door. When my brother Danish came to defend him, they grabbed both of them, dragged them outside the house and started thrashing them," Shaista said.
When she, her mother and grandmother tried to intervene, the mob pushed them into a room.
Danish fell on the ground, and the mob left him thinking he was dead.
They, however, kept thrashing Ikhlaq. Someone hit him on the head with a sewing machine they found in the house.
She said the mob took out a bowl of flesh from their fridge, and claimed it was cow meat.
"The mob also threatened us to not to disclose the incident to the police," Shaista said.
An FIR was filed against 19 accused, including three juveniles. One of the accused, Sonu Sisodiya, was found present somewhere else at the time of the incident and was let off. The rest were nabbed within a month.
Samples of the meat were sent to a local veterinarian and then to a forensic laboratory in Mathura. The veterinarian said the meat looked like that "belonging to a goat".
This report triggered a massive controversy. Nearly 10 months later, a report from the Mathura forensic laboratory submitted in court termed the meat as belonging to a "cow or its progeny".
Following this report, the families of the accused demanded an FIR against Ikhlaq and his family. The residents threatened a mahapanchayat of 144 villages of Rajputs if the FIR is not registered.
On July 15, the local court ordered an FIR against Ikhlaq and six of his kin. Last month, the Allahabad High Court put a stay on the arrest of five of the family members, but that of his brother Jaan Mohammad was not stayed.
"We are demanding justice. Justice should be served equally. Police should arrest Jaan Mohammad as he was involved in slaughtering a cow," said Sanjay Rana, the father of accused Vishal.
Three of the juvenile accused are out on bail and charges against all 18 are yet to be framed. The next date of hearing on framing of charges in the fast-track court is on October 28.
Read more: A year after Dadri lynching, festivals mean sorrow for Ikhlaq's family
Close Story