Man caught for mobile theft confesses to 11-year-old twin Ghaziabad murders
All these years, police investigation had remained inconclusive and the two victims were assumed missing.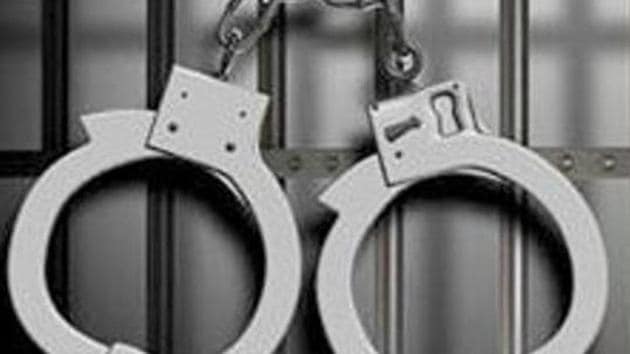 Updated on Sep 09, 2018 09:07 AM IST
Eleven years after a police constable and an informer went missing, the Ghaziabad police came to know on Friday that the two were brutally murdered and their chopped body parts thrown in a drain in Greater Noida's Jarcha area in 2007. All these years, police investigation had remained inconclusive and the two victims were assumed missing.
The revelation came from a man who was arrested by the police in connection with a mobile theft case. The police on Saturday arrested Meghu alias Vijay, a resident of Dehra village in Hapur district, as well as his accomplice Rajvir, from Bajhera village in the same district. The two, the police said, were arrested in connection with the theft of an iPhone that was robbed from a resident in 2017. A case for mobile theft had been lodged at Sihani Gate police station.
"After the two were arrested, an informer told us that Meghu holds a clue to the case of police constable Ikrar Ali and informer Vijaypal's disappearance. When questioned, Meghu said that he, along with four others, including his maternal uncle and brothers, had murdered the two men in 2007," Vaibhav Krishna, senior superintendent of police, said.
The police said that Vijaypal used to make money off of Meghu and his gang and that led to an altercation in April 2007. Vijaypal, in order to have the altercation settled, took Ikrar to meet the gang, but both men were brutally murdered. The cop was then stationed at the Ghaziabad Police Lines.
"The two men were chopped to pieces with sharp-edged weapons and packed in a gunny bag. The men later put the bag on a cycle and dumped the body parts in a drain at Jarcha, Greater Noida," sub-inspector Sanjay Verma, in-charge of Ghaziabad crime branch, said.
After the police constable went missing, a missing person complaint was by lodged by his brother Israr Ali at Kavi Nagar police station on April 23, 2007. However, police investigation yielded nothing.
The police said they also recovered the missing constable's watch from the prime accused Meghu, along with other documents, and these would make crucial evidence against him.
According to the police, the five men involved in the twin murders were Meghu, his brothers Pawan, Neetu, Subodh and their maternal uncle Prakash.
"Two of his brothers, Pawan and Subodh, are presently lodged in Dasna jail in connection with other cases. Neetu is on the run. Pawan had shot their maternal uncle dead in 2010, after a dispute over the distribution of robbed valuables. A case was lodged at Jarcha police station and Pawan and Meghu had also gone to jail," SSP Krishna said.
"A massive search was conducted, but the police could not find any clue about the missing constable and informer. The accused men moved around districts committing crime," he added.
The police said that Meghu's accomplice Rajvir was not involved in the 2007 twin murder case but has been committing thefts and robberies with the prime accused of late.
However, Ikrar's family expressed dissatisfaction over the police disclosure.
"It has been over 11 years, and the police could not trace one of their own. What can a normal citizen expect, then? We have made hundreds of rounds to police stations over a decade and written to whoever could, hoping my father would be found," Nadeem, the oldest son of the constable, said.
Ikrar was aged around 48 years when he went missing and was to retire from service in 2017.
"The police informed me of the development on Friday, but I am not satisfied and have not revealed it to anyone in the family yet," he added.
Close Story