MoserBaer workers hold up traffic for hours in Greater Noida
Dec 18, 2017 11:18 PM IST
The protesters said the company has been locked out since November without any reason
Irked over the alleged delay in getting remuneration from the company, hundreds of MoserBaer employees on Monday protested against the management for not fulfilling their demands. The employees sat on a dharna and blocked vehicular movement on the Surajpur-Pari Chowk road for hours.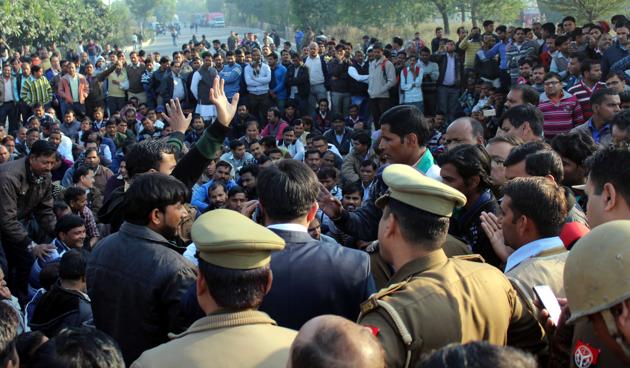 Agitated employees came out on the road around 1.30pm and staged a protest, stalling traffic on the arterial road for around three hours. The vehicles had to be diverted from various routes by traffic police personnel.
The protestors uprooted the kerb stones of the footpath and used them to block the road.
However, the wrath of the employees compelled senior police officers and district administration officials to rush to the spot. After an assurance from the authorities, the protestors who were raising slogans against the company, left the spot.
Amit Kumar, sub-divisional magistrate of Dadri, told the workers that a meeting will be arranged with the management of the company to resolve their grievances.
During the protest, employees said that there has been a lockout in the company since November 4 without any reason and they were not allowed to enter the premises. The company manufactures compact discs (CDs), digital video discs (DVDs) and pen drives that are shipped to different countries across the globe.
"As many as 2,250 employees have been laid off by the company without notice. We have been raising demands since the beginning of the year, but there was no action, " said Sanjay Chouhan, an employee.
He said that the company had made an agreement with the employees in 2015 that they will get an increment of
₹2,100 per month. "The increment was stopped after April 2017 and we've been struggling to make ends meet ever since. We have been raising our voice against it. The company also stopped providing us with medical facilities and meeting our transportation costs," Chouhan added.
Read I Noida homebuyers to protest outside BJP's Delhi office on Nov 18
Employees said that the management had agreed to hold a meeting on November 4 to address the grievances, but it was not held.
Mohan Singh, another employee, said, "We got a mail from the management that on November 2 and 3, the unit will remain closed for the maintenance of DG sets. On November 4, we reached the office and were not allowed to enter the premises."
Since November 4, the employees kept coming and had no entry to the factory. The doors were closed and a notice was pasted on it.
Kumar said, "The company is closed and the salaries of employees are pending since Diwali, as the company is battling insolvency. An interim resolution professional appointed by National Company Law Tribunal (NCLT) will hold a meeting with the stakeholders on December 20."
Amit Kishor Shrivastava, circle officer, Greater Noida-1, said that cases will be registered against the protestors for blocking vehicular movement and damaging public property.