Noida police to crack the whip on those using pressure horns
Noida residents have written to the traffic police asking them to curtail the use of pressure horns on the city's roads.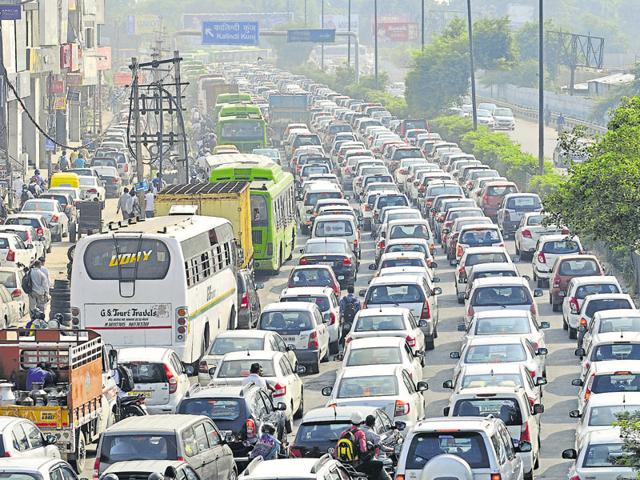 Published on Jan 31, 2016 11:57 PM IST
Indiscriminate use of pressure horns by drivers of private buses, cars, trucks and other vehicles on city roads has emerged as a big concern. Residents have written to the traffic police asking them to curtail the menace which often results in road rage and accidents.
According to the motor vehicle laws, two-wheelers should not use horns the emit more than 80 decibels of sound. Similarly, 82 decibels is the limit for cars and autorickshaws, 85 decibels for light heavy vehicles and 91 decibels for lorries and buses. Use of horns in silence zones, near hospitals, schools and signals is not allowed.
Noida Vikas Manch (NVM), a people's representative body, has decided to take up the issue with the district administration.
"I raised this issue with the city police earlier because it is causing panic on Noida roads and now I will raise the issue with the district magistrate NP Singh," said Joginder Awana, president of the NVM.
"The city traffic police must punish those who are causing this menace. We are really scared of pressure horns as they cause panic for us on main roads as well as internal sector roads. In my experience, young people are prone to creating nuisance with the horns as they are least bothered about others problems. I have written several mails, sent messages on facebook to the police and have also appealed to the district administration to do the needful," said Rajinder Singh, a resident of Sector 28.
"My father, who is 73-years-old, was walking inside the sector early in the morning when a young boy on his bike sped through and was using high pressure horn for a clear passage. My father told me that he was scared on hearing the high pressure horn suddenly. I spoke to a senior police official and informed him about the incident. I am sure many people must be facing such nuisance daily, as there is no check on them," said Nirbhay Kumar, a resident of Sector 33, adding that he is planning to lodge a complaint with the police.
The traffic police claim to have fined around 2,500 people for using pressure horns during the traffic awareness month i.e. in November 2015.
"We keep conducting awareness drives to educate people on traffic rules and also fine people for using pressure horns. We were unable to implement the law properly due to inadequate staff members. Now, we are going to be very strict about traffic rules. We will crack the whip against motor service centres that are providing the pressure horns illegally," said superintendent of police (SP) traffic Ram Nayan Yadav, adding that pressure horn is also a cause of noise pollution and amounts to criminal offence.
It is worth noting that the Supreme Court has clearly said that only those holding constitutional offices can use pressure horns and red beacons on their cars. Under the new rule, only the president, prime minister, cabinet ministers, senior judges and other selected officials are entitled to use red beacons.
Close Story
Personalise your news feed. Follow trending topics