Narendra Modi's maritime vision is critical for Asean
Updated on Jun 07, 2018 11:58 AM IST
The need to appoint a dedicated ocean affairs minister and a professional maritime adviser is now, failing which the Jakarta declaration will be one more earnest articulation of intent that was not realised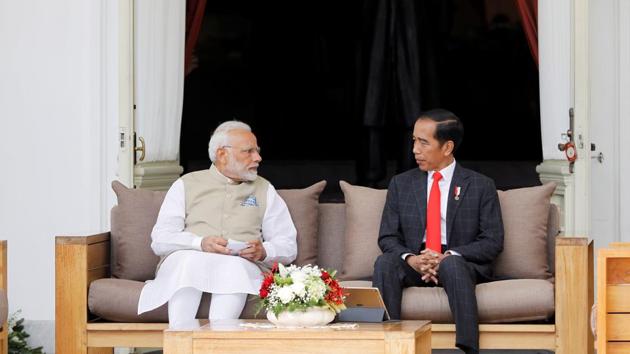 Prime Minister Narendra Modi's whistle-stop tour through Asean (Association of Southeast Asian Nations) that began in Indonesia (May 30) followed by a pit-stop Malaysia and then Singapore (June 1) reiterated the centrality of the maritime domain in India's ambitious Look/Act East Policy that began in the Narasimha Rao years.
To his credit, Modi has brought his personal vigour to matters maritime and since assuming office has introduced and advocated the concept of Sagar (security and growth for all in the region) —the Indian Ocean region, which has now been expanded to the Indo-Pacific continuum — the wide oceanic swathe that encompasses the Indian Ocean littoral from the east coast of Africa to the western Pacific ocean that laps the east Asian coastline.
Modi's Indonesia visit was the most substantive by way of outlining the scope of the bilateral relationship with the largest Asean nation and locating this within the larger geo-political construct of the India-Asean framework. Asean conceived in 1967 as an anti-communist bloc during the Cold War, comprises 10 nations. The original five (Indonesia, Malaysia, Thailand, Philippines and Singapore) were later joined by Brunei, Laos, Cambodia, Vietnam and Myanmar. Currently its combined GDP ($2.8 trillion) is greater than that of India, which reiterates the centrality of this cluster of nations for India — a theme that Modi persuasively expanded upon during his visit.
The regional maritime domain is currently in a state of disequilibrium since China has chosen to assert its military muscle in the South China Sea (SCS) and has rejected an international tribunal that arrived at a decision that did not accept the territorial claim advanced by Beijing and contested by the Philippines. It is a different matter that Manila has done a U-turn on its own position after President Rodrigo Duterte assumed office in June 2016. But this does not detract from the muted reality that many Asean nations are dismayed by China's assertiveness and are unable to denounce it in public given their economic-trade-financial dependency on Beijing. Indonesian President Joko Widodo has expressed his concern in the matter and has also outlined his vision for a grand maritime concord with his country as the fulcrum.
Many Asean nations have been looking to the major powers for some kind of collective response that will be a cautionary signal to China and this was provided in a very subtle manner by Modi in his Indonesian visit. Without naming China or provoking Beijing, both India and Indonesia highlighted certain core principles and in the joint statement they noted:
"Both leaders (Widodo-Modi) reiterated the importance of achieving a peaceful and prosperous Indo-Pacific region where sovereignty, international law, freedom of navigation and over-flight, sustainable development and an open and fair trade and investment system are respected. The development of the Indo-Pacific concept, must also be done in an open, transparent, and inclusive manner, respect for the international law and uphold Asean centrality."
This is a statement of very deep import and many issues and principles specific to the maritime domain and critical to both Asean and the larger global community have been deftly woven together. The first is the commitment to a normative principle — the sanctity of international law and this is anchored in the concept of the Indo-Pacific region even while acknowledging Asean centrality.
Modi's vision for an inclusive Indo-Pacific was further elucidated in Singapore and again he offered an unexceptionable contour when he noted : "Inclusiveness, openness and Asean centrality and unity, therefore, lie at the heart of the new Indo-Pacific. India does not see the Indo-Pacific Region as a strategy or as a club of limited members. Nor as a grouping that seeks to dominate. And by no means do we consider it as directed against any country. A geographical definition, as such, cannot be. India's vision for the Indo-Pacific Region is, therefore, a positive one…it stands for a free, open, inclusive region, which embraces us all in a common pursuit of progress and prosperity. It includes all nations in this geography as also others beyond who have a stake in it."
The global community has an abiding stake in the security and stability of the Indo-Pacific and to the extent that China has challenged the existing status quo, an alternative approach has been offered in the Sagar formulation.
However, the policy challenge for Modi will be to implement the many maritime initiatives mooted in Indonesia and ensure their continuity over the next decade plus. The need to appoint a dedicated ocean affairs minister and a professional maritime adviser is now, failing which the Jakarta declaration will be one more earnest articulation of intent that was not realised.
C Uday Bhaskar is director, Society for Policy Studies, New Delhi
The views expressed are personal
Close Story
Personalise your news feed. Follow trending topics