Navigating a curious chapter in Indo-US ties
Jun 27, 2022 08:06 PM IST
With Quad's expanding footprint and the IPEF's potential for investment, there is an urgent need for India to be clear-eyed on Delhi-DC ties, while it may be forced to rethink its stance on Russia. This is also a good moment to assess other key partners
India's relations with the United States (US) are going through a curious chapter. On the one hand, there is a deep commitment to this unique relationship. This promise is more than noticeable in both letter and spirit. Quad's expanding footprint, albeit in mainly non-military domains, is striking. The potential embedded in the newly unveiled Indo-Pacific Economic Framework (IPEF), led by the US, to which India has lent its name, could be compelling. A brand new initiative led by the national security councils of both countries on Critical and Emerging Technologies (CET) is one of the most dynamic and functionally useful pathways to coordinate, assimilate, safeguard, and grow bilateral technology partnerships.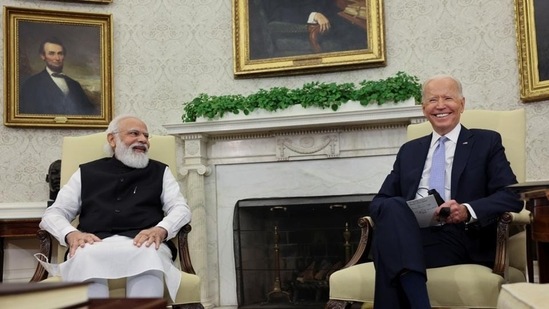 Notwithstanding all the noise around data localisation and disagreements over India's e-commerce regulations, big tech firms are expanding their Indian footprint. Venture capitalists in the Bay Area and in New York are raising the investment weightage allocated for India.
As for spirit, one need look no further than the US national security advisor Jake Sullivan's positions on India. As Sullivan recently stated, "On the question of Russia we have different historical perspectives, different muscle memories." "The dialogue," he argued, "we have going with India right now will bear fruit over time." This is, in many respects, the strategic pitch offered and mostly accepted by those in different parts of the executive branch in the US. Kurt Campbell, who leads work on the Indo-Pacific in the White House, stresses that the "key is to remain purposeful." The "most important relationship," according to Campbell, "is likely to be with India."
In sum, the leaders get it.
India's current position on Russia — informed by its dependence on Russian military supplies, ever-deepening Sino-Russian ties, and concerns over Sino-Russian influence in South Asia — is today largely understood in the corridors of executive authority in the US.
Yet, on the other hand, the deep disappointment over India's divergent position on Russia is evident, too. The gulf between official rhetoric and the less formal exchanges with technocrats and experts alike, present a varied picture of the state of the relationship. To be sure, long-time India watchers are notably vexed.
"Washington's patience is not endless," Lisa Curtis, a former senior official in the administration of President Donald J Trump, argues. "The longer Russia prosecutes its war without India changing its position," Curtis suggests, "the more likely the United States will be to view India as an unreliable partner." To be sure, India's continuing import of Russian oil, especially at a time of skyrocketing inflation and the global slide towards a recession, appears to have become something of a proxy for the disillusionment with India. In the US Congress, too, the churn is more than noticeable. "Why aren't we applying secondary sanctions against countries . . . that are increasing their imports from Russian commodities?" asked Senator Chris Van Hollen, a Democrat. This was in April.
Fast forward to June, the verve underlying Van Hollen's sentiments remains acute. Any exchange with congressional staffers and the wider American commentariat, especially the much larger community of non-Indian specialists, serves as a clear reminder of the bifurcation that exists in the US between encouraging leader-led advances and the political echo chamber on the Hill, and outside.
To be clear, given the extent to which the American leadership has bet on India, it is not hard to ignore the vocabulary of dissent outside of the executive office. How does it matter what former officials and elected representatives advocate, is a question that is easy to reconcile in the comfort of Quad and IPEF alike. Yet, as the much-debated nuclear deal with India (2005-2008) underlined, these external forces are crucial in times of need. To be clear, the Indian argument is no mystery, largely thanks to the considerable efforts of the Indian external affairs minister and the ministry of external affairs (MEA).
Yet, it is important to think tactically about sustaining and rebuilding the bridges of friendship with many of those who remain vested in the relationship with India, and who at the same time offer caution about its current projection. There is a role for think-tanks and a need for informal ties that is invaluable at this time of stark difference and change. India has a view; many in America do too. It is not necessary to reconcile positions, but a sustained set of exchanges is imperative.
Further, notwithstanding the White House's deep commitment to India, there will be a moment of reckoning that will come. However, its form and shape are hard to estimate. Hence, as much as India's position on Russia is indeed distinct, and rightly so — after all, it is shaped by imperatives that are unique to India — it is worth using this time well to strategise for the future.
There is a need, more urgent than otherwise assumed, to be clear-eyed about what India may want from the US and its military-industrial base and what it wants from partners such as France, the United Kingdom, and others. The MEA has bought India time — this is clear as daylight in the grammar and actions of America's leadership. Down the line, other organs of the Indian State need to seize this moment of change, and pivot. Administrative inertia, especially in planning India's defence future, will be far costlier than the criticism around India's current position on a tragic and unjustifiable war launched by Russia, a country that has less and less to offer its old friends.
Rudra Chaudhuri is director, Carnegie India
The views expressed are personal
"Exciting news! Hindustan Times is now on WhatsApp Channels
Subscribe today by clicking the link and stay updated with the latest news!"
Click here!
Continue reading with HT Premium Subscription
Daily E Paper I Premium Articles I Brunch E Magazine I Daily Infographics