2018 Commonwealth Games: Brandon leaps out of big brother Mitchell Starc's shadow
Mitchell Starc's brother Brandon Starc won the high jump gold at the 2018 Commonwealth Games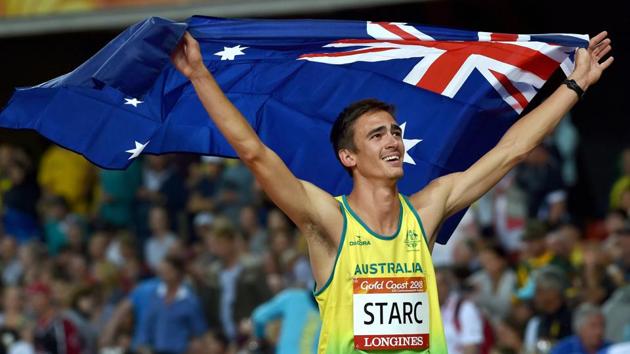 Updated on Apr 11, 2018 11:34 PM IST
He has close ties with cricket – his brother Mitchell Starc is Australia's most lethal fast bowler and he is also related to former Australia wicketkeeper Ian Healy, but Brandon Starc never considered taking up cricket as a profession. (2018 Commonwealth Games, Gold Coast, Highlights)
Brandon instead had a different liking when it came to choosing a sport as a career option. His calling was high jump and he has proved to be a star in his chosen field. On Wednesday, Brandon leapt out of the considerable shadow cast by his cricket star brother Mitchell when he won the men's long jump gold medal at the Commonwealth Games here.
READ | 2018 Commonwealth Games: M C Mary Kom may skip Asian Games to focus on World Championships
Fielding questions after his golden show, Brandon said his association with cricket, in which his brother Mitch is one of the world cricket's leading stars, was limited to playing in their backyard when they were growing up.
"When I was very young, I used to play it (cricket) with my brother Mitchell, but taking it up as a career was never an issue," Brandon told reporters.
"I have always liked athletics and have followed that. Once you go on doing something day after day, you start enjoying it. So there was no time for another thing," he said.
Brandon, a silver medallist at the 2010 Summer Youth Olympics in Singapore in 2010, carved a name for himself in Australian athletics when he qualified for the 2015 World Championships in Beijing. However, in terms of international success his brother was way ahead.
READ | Facing Nigeria in Commonwealth Games final was a big surprise: Achanta Sharath Kamal
By winning the gold medal at the Commonwealth Games Brandon has quelled a few doubts of his own. He had been struggling to cross his personal best of 2.31m for the last few years but on Wednesday, he put that disappointment behind and set his personal best of 2.32m to win the gold.
Comparison with his brother is inevitable but Brandon said he has always taken it sportingly and is proud that Mitch has achieved so much success in cricket.
On his part, Mitchell, who is four years older, was one of the first to congratulate his brother and said he was immensely proud of his brother's achievements. "Get in there boy! Gold medal at the Com games! Bloody awesome @Brandonstarc93 super proud young fella," Mitchell tweeted.
Close Story