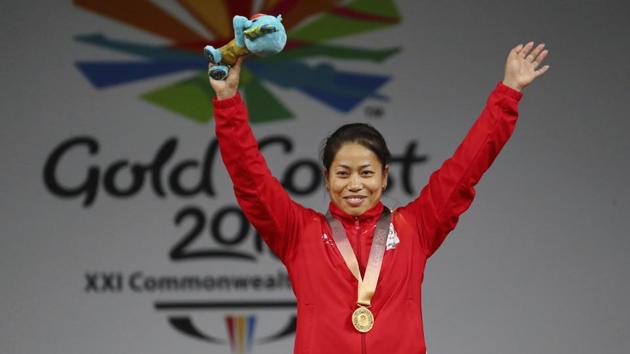 2018 Commonwealth Games: Weightlifters Sanjita and Mirabai Chanu tread the path shown by Kunjarani Devi
Weightlifters Mirabai Chanu and Sanjita Chanu won gold for India in the 48 kg and 53 kg categories respectively at the 2018 Commonwealth Games.
Hindustan Times, Mumbai | By Ankit Kumar Singh
UPDATED ON APR 07, 2018 09:41 PM IST
Soon after Sanjita Chanu won India's second gold medal in the Gold Coast Commonwealth Games (CWG) on Friday, a Facebook user commented, "Well done, Chanu and Mirabai. Delhi may ignore Manipur (record 100 days lockdown), but the valley of Imphal always fights for the pride of India in sporting arena."
The post was a reminder of remarkable sporting success stories athletes from Manipur have scripted over the years despite being ravaged by conflicts.
The state has produced many champion sporting figures, none more famous than Mary Kom, the 2012 Olympic bronze-winning boxer, who is chasing a medal in Australia as well.
READ: 2018 Commonwealth Games: Mauritius delegate charged with sexual assault
However, Manipur began producing champion women lifters much before Mary Kom's rise. Weightlifting is one discipline where women from the state in particular have brought India laurels regularly in the last 10-15 years.
It is no surprise, therefore, to see India's first two gold medals in this CWG has come via two Manipur women – 23-year-old Saikhom Mirabai Chanu, who clinched the first gold for the country in 48kg on Thursday, and 24-year-old Sanjita Chanu Khumukcham, who bagged the first position in 53kg on Friday.
The two athletes had made the country proud at the 2014 Glasgow CWG as well. Sanjita had won gold in 48kg and Mirabai silver in that category.
READ: Commonwealth Games: Deepak Lather wins bronze in 69 kg weightlifting
KUNJARANI, THE PIONEER
Owing to a low centre of gravity due to their physique, Manipur women have been able to squat more efficiently and lift heavier weights. Beyond that, it has all been sweat and toil.
Spectacular as the rise of Sanjita and Mirabai has been in the international weightlifting circuit in the last four-five years, the credit for making the sport a rage in Manipur goes to the iconic former world champion, Kunjarani Devi. Kunjarani, who has won more than 50 international medals, was the first woman lifter from Manipur to gain international recognition.
READ: 2018 Commonwealth Games: Indian para swimmer Kiran finishes 7th in S9 100m backstroke
Her triple silver-winning effort in the Women's World Weightlifting Championships at Manchester in 1989 could be termed a watershed moment in the growth of weightlifting in Manipur as it instilled belief among youngsters that they too can achieve the same if they put in the hard yards. At the 1990 Beijing Asian Games and at Hiroshima four years later, she won bronze medal.
Part of a band of weightlifters – Andhra Pradesh produced a few top women in the period – who made the country proud, Kunjarani took part in seven consecutive world championships between 1989 and 1995. She won silver medals in six of them. She bagged gold in the 48kg class at the 2006 Melbourne CWG.
Both Sanjita and Mirabai are Kunjarani's protégés, which underlines the role the 50-year-old has played in nurturing Manipur as a hub for women lifters.
Ngangbam Soniya Chanu and Monika Devi came later. Soniya Chanu won silver at the 2010 New Delhi CWG after Monika's silver at the 2006 Melbourne edition.
With Sanjita and Mirabai making headlines, more young talent from the state will chase glory in the lifting arena.
Close