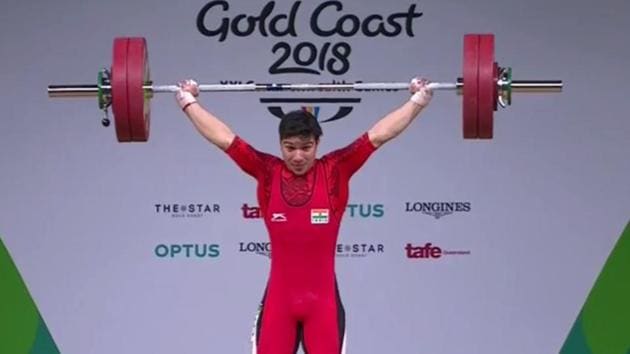 Commonwealth Games: Deepak Lather wins bronze in 69 kg weightlifting
Deepak Lather became the youngest male weightlifter to win a Commonwealth Games medal when he won India's fourth medal at the 2018 Commonwealth Games at Gold Coast on Friday, finishing third in the men's 69 kg weightlifting event final.
UPDATED ON APR 06, 2018 06:06 PM IST
As Samoa's Vaipava Ioane asked for 175 kg on the bar for his second clean and jerk attempt in the men's 69kg weightlifting contest at the 2018 Commonwealth Games in Gold Coast on Friday, India's Deepak Lather sat down heavily on the bench, with his head in his hands. (CWG 2018 live updates)
Deepak was third in the standings with a total weight of 295 kg, following a below-par snatch in which he could only manage just 136 kg in his second attempt and missed 138. This despite him doing 142 in training. (India's full schedule at CWG 2018) (Live streaming) (Medals tally)
The 18-year-old from Shadipur, near Rohtak in Haryana, had failed to clear 162 kg in clean and jerk, and by heaving 167 kg Ioane had leapfrogged to fourth spot, making up for a gap of nearly 10 kg in snatch.
By lifting 175, which he had, according to reports, done in training, the 29-year-old from Samoa would have reached 300 kg, surging to the top position and pushing down Gareth Evans (Wales) at 299 and Indika Dissanayake of Sri Lanka to second and third position respectively. Deepak, participating in his first Commonwealth Games, would have finished fourth.
READ MORE | Sanjita Chanu Relieved After Proving Critics Wrong With Gold At 2018 Commonwealth Games
But, to the delight of the Indian contingent, Ioane failed at 175, and Evans, who was very animated and aggressive at the staging area, took gold while Dissanayake took silver and Deepak finished with bronze.
"I sat there with my head in my hands, praying to God for support and hoping Ioane would miss and he just did. I am happy to win a medal in my first Commonwealth Games,"said the 18-year-old Lather.
The bronze medal made Lather, a Naik Subedar in the Indian Army, the youngest Indian weightlifting medallist at the CWG and a star to watch out for in the future.
Lather is the first person from his family to take up sports as others are involved in agriculture. He started as a diver but was pulled out of water by a vigilant coach who felt he had a better future in weightlifting.
READ MORE | 2018 Commonwealth Games: Rakesh Patra reaches final of artistic gymnastics ring event
"I was told my body was not supple enough for diving. So, in 2010, I shifted to weightlifting," Lather said.
Lather, who has won a bronze in Commonwealth Championships last year, would missed out on the youngest medallist record had his teammate Raja Muthupandi bagged a medal in men's 62 kg on Thursday night. Muthupandi is a few months younger than Lather.
But the day belonged to Lather and his aim now is to make the grade for the Asian Games later this year by qualifying for the tougher competition.
Close