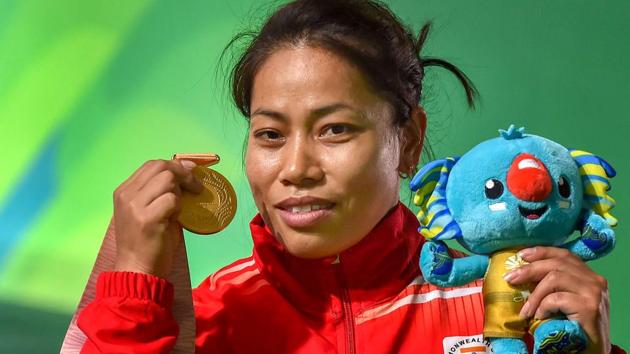 Sanjita Chanu relieved after proving critics wrong with gold at 2018 Commonwealth Games
Sanjita Chanu was in tears at the podium of the 53 kg women's weightlifting event -- tears of relief because the 2018 Commonwealth Games gold medal meant she had finally left behind a torrid time spent recovering from an injury which also forced her to move up to a higher weight category.
UPDATED ON APR 06, 2018 03:08 PM IST
Sanjita Chanu Khumukcham's eyes welled up as she stood atop the Commonwealth Games podium with the gold medal around her neck on Friday. Sanjita won the women's 53kg weightlifting event -- India's second gold in this edition of the CWG in Gold Coast, and also the second for the lifter from Manipur in Commonwealth Games. (CWG 2018 Day 2 live updates)
The tears were of relief mixed with joy: Relief because she had come through a bruising battle with Laura Dika Toua of Paupa New Guinea in the latter stages of the competition and also because she had finally left behind a torrid time spent recovering from an injury which also forced her to move up to a higher weight category. (India's full schedule at CWG 2018) (Live streaming) (Medals tally)
Sanjita was happy because she had managed to not only add another Commonwealth Games gold to the one she won in the 48 kg class in Glasgow 2014, but also proved her detractors wrong by coming up on top after a tough and long battle.
Read more | Deepak Lather Wins Bronze In Men's 69 Kg Weightlifting At 2018 Commonwealth Games, Creates
Sanjita suffered an injury to her back after the Glasgow Commonwealth Games and struggled to recover. After returning to competition, she she did not have good results, and took time to get used to the higher weight category, working harder to get into the top bracket. She finished a poor 13th in the 2017 World Championships in Anaheim, USA.
"Lot of people had doubts on whether I would win a medal again. I had another injury to my back during the World Championships in 2017," she said. "I had to work harder, had lot of help from my coaches and the federation, who showed lot of patience with me. Even after coming here (Gold Coast), I had to spend extra time with the physio, nearly half-an-hour before every training session, to get ready.
"So, when I received the medal, that brought teas to my eyes as I was very happy and relieved to have answered my critics," Sanjita explained at the Carrara Sports and Leisure Centre on Friday.
Read more | 2018 Commonwealth Games: Indian boxer Naman Tanwar eases into quarterfinals
Sanjita entered the fray with an easy 81 kg lift in snatch, which straight away put her on top. But Toua, the Commonwealth Games record holder in this category, was an ever-present danger. The Papua New Guinea lifter, gold medallist in the class in 2014 and a silver medallist in Melbourne, started with 78kg and was capable of going higher. So, Sanjita went for 83 kg and then raised it to 84 kg to set a new Commonwealth Games record that sealed her the top spot in snatch as Toua, a 34-year-old mother of two, attempted 82kg and failed to complete the lift.
Though she had a slight edge over Toua, Sanjita had to do better in clean and jerk because her rival held the Commonwealth Championships record. Sanjita started at 104 while Toua, having done 102, decided to raise the bar to 109 to put pressure on her Indian rival, who had lifted 108 in her second turn.
However, Toua could not complete the lift. In her third and final chance, Sanjita attempted 112 kg, going for the Commonwealth record, in order to take it beyond her rival. But Sanjita failed leaving Toua to make a last-ditch attempt at lifting 113kg, something she has not lifted even in practice since 2005. Her brave effort proved futile and the gold went to the Indian.
Read more | 2018 Commonwealth Games: Rakesh Patra reaches final of artistic gymnastics ring event
Sanjita ended Friday's competition with a total of 192 kg, which was less than the 193 Toua lifted to win gold in 2014. In fact, the 48kg category gold medal was annexed by Mirabai Chanu after she lifted 196 kg on Friday.
"I am very happy to win the gold medal. The aim now is do well in the Asian Games and eventually the Olympics," said Sanjita.
Close