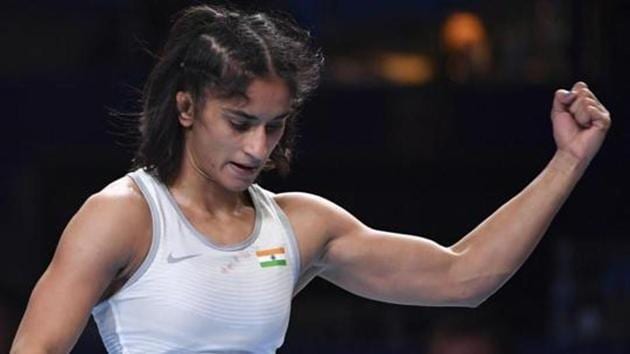 Asian Wrestling Championship: Vinesh loses to nemesis Mukaida, gets bronze
Mukaida will most certainly play on the mind of the Indian who carries the country's medal hopes in Tokyo.
Hindustan Times, Delhi | By Avishek Roy
UPDATED ON FEB 21, 2020 10:25 PM IST
For third time in succession, Vinesh Phogat couldn't unlock the mystery called Mayu Mukaida.
The Japanese, by all means, will be a leading contender at the Tokyo Olympics and a huge road bump for Indian's aspirations. Perhaps the only consolation Vinesh can draw from her fight against Mukaida at the Asian Championships here on Friday is the reduced margin of defeat (2-6).
Mukaida will most certainly play on the mind of the Indian who carries the country's medal hopes in Tokyo. When Vinesh lost 7-0 to Mukaida at the World Championships in September, she had desperately waited for the opportunity to face the Japanese one more time before Tokyo. That opportunity came at the Asian meet here and for the third straight time she was drawn to open her campaign in 53kg against her nemesis.
The most awaited bout of the day was off to a measured start. Vinesh and Mukaida preyed on each other's legs. Vinesh made three attempts to attack Mukaida's left leg but the Japanese was quick to wriggle out.
When Vinesh's leg was seized by Mukaida, she did well to blunt the Japanese's attempt to execute a gut wrench, and thus conceding mere two points. The Indian succeeded in levelling the scores in the second period but couldn't build on it.
Mukaida, this time, unleashed her gut wrench to perfection and Vinesh could do little but cave in, eventually losing 6-2. In the repechage round, Vinesh was too good for Vietnam's Thi Ly Kieu, winning 10-0.
"There are some areas I am working on to beat Mukaida and I am hopeful that I will be prepared for her in Tokyo. She has been playing in 53kg and 55kg for a long time and she has the experience in heavier weight categories. I am new to this category but I am learning," said Vinesh.
"In my first match against Mukaida I lost 10-0, then it was 7-0, today for the first time I scored against her and it shows that I am in the right direction," she said.
"The strategy was not to give her a big lead in the first period which she got in our previous bouts because then it becomes difficult to bounce back, so initially I was cautious," said Vinesh. Mukaida, the world championships silver medallist, however lost the final to Kazakhstan's Tatyana Akhmetova. She conceded a lead of 8-2 when her attack went horribly wrong and an off-balance Mukaida was pinned by Tatyana.
Sakshi bags silver
The focus was also on Rio Olympics bronze medallist Sakshi Malik, who has been going through a long lean patch. She even lost her right to compete in the 62kg Olympic category after losing the national selection trials to teenager Sonam Malik.
In a depleted field of six wrestlers, Sakshi did well to win a silver, her first medal in a major international competition after the 2017 Commonwealth Championships. She lost twice to Japanese Naoi Ruike, once in the round-robin league and then 2-0 in the final, still looking a pale shadow of herself. In the semi-final against Nabira Esenbaeva, Sakshi was just able to hold on to a slender 5-4 lead.
With a medal to show, she earned the right to compete in the national selection trials in 62kg against Sonam Malik for the Asian Olympic qualifier next month.
For someone who has not even played her first senior national championships, Sonam was not overwhelmed by the pressure of the international stage. Fighting against the world's best in 62kg Olympic category, 18-year old Sonam showed a fearless streak. She defeated Korean Hanbit Lee 11-0, scoring the last four points with a brilliant counter when her left leg was under attack. She lost to 2018 World Championships silver medallist Japanese Yukako Kawai 5-2 but gave a good account of herself. In the bronze-medal match, Sonam went down to world champion Aisuluu Tynybekova by technical fall.
Anshu, Gursharan settle for bronze
Another teenager Anshu Malik won bronze beating Uzbekistan's Sevara Eshmuratova 10-0 in 57kg. Anshu sealed her spot for the Asian Olympic qualifier next month. Gursharanpreet Kaur (72kg) defeated Mongolian Tsevegmed Enkhbayar 5-2 for the day's fourth medal. Indian women's team thus finished with a rich tally of three gold, two silver and three bronze medals. "My target is to qualify for the Olympics. This was my first senior competition and there was nothing to lose, so I gave it my all," said Anshu.
Close