China badminton team regain glory with Thomas Cup win
Press Trust of India, Bangkok |
Press Trust of India
May 27, 2018 08:06 PM IST
China, which boasts some of the world's best badminton players, was the Thomas Cup favourite despite not having secured the championship since 2012.
China men's badminton team took home the Thomas Cup on Sunday, clawing back to beat Japan 3-1 and compensate for their early exit from the previous tournament in 2016.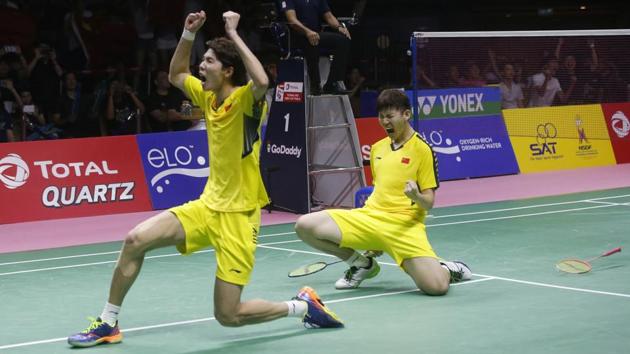 China, which boasts some of the world's best players, was the tournament favourite despite not having secured the championship since 2012.
But its players faced added pressure when the national women's team failed to make the final of the concurrent Uber Cup for the first time ever.
Both competitions were held in Bangkok at the Impact Arena, which filled up on Sunday in anticipation of a tough battle between top seed China and a scrappy Japanese team.
READ | Japanese badminton team ends 37-year drought with Uber Cup win
The contest did not disappoint. Japan's flashy left-hander Kento Momota stunned world number five Chen Long 21-9, 21-18, giving the underdog team crucial early momentum.
It was the second time Momota, 23, had stunned Long this year after beating him at the Asian Championships in April in a continuing comeback. He was barred from the sport in 2016 after being caught gambling in an illegal casino but returned to action last year.
China's deep bench rallied after the stunning loss, with world number three doubles pair Liu Cheng and Zhang Nan levelling the contest.
The 22-year-old singles star Shi Yuqi then stayed one step ahead of Japan's Kenta Nishimoto, jumping in the air for a smash winner to reach a match point which Nishimoto then netted to give Yuqi a 21-12, 21-17 win.
READ | Manavjit Singh Sandhu included in TOP Scheme, Ajay Jayaram dropped
Clinching the third and deciding match was the world number four doubles pair Li Junhui and Liu Yuchen, who sprang back from a set down to achieve a nail-biting win over Keigo Sonoda and Yuta Watanabe 17-21, 21-19, 22-20.
Their teammates rushed the court afterwards in celebration.
The tall and imposing Li Junhui told reporters afterwards that part of the week-long competition had left him so worn out he was too tired even to change his shirt.
After failure to excel in the past two tournaments, head coach Xia Xuanze said he was relieved to move on.
"It's a big relief and I can have a drink now," he said.
READ | Big test awaits Viswanathan Anand at Norway super chess tournament
Japan had been eyeing a clean sweep after the women's side clinched the Uber Cup with an easy 3-0 victory against Thailand on Saturday.
But it was not to be, even though men's coach Park Joo Bong said his players had exceeded expectations.
"It was a very good fight (but) finally we could not finish the win," he said. "But I'm happy." (AFP) APA APA