Commonwealth Games title in her kitty, MC Mary Kom craves Olympic gold
MC Mary Kom, after winning the 2018 Commonwealth Games (CWG 2018) final against Kristine O'Hara at the Oxenford Studios in Gold Coast, said she is determined to train hard and try and win the elusive Olympics gold.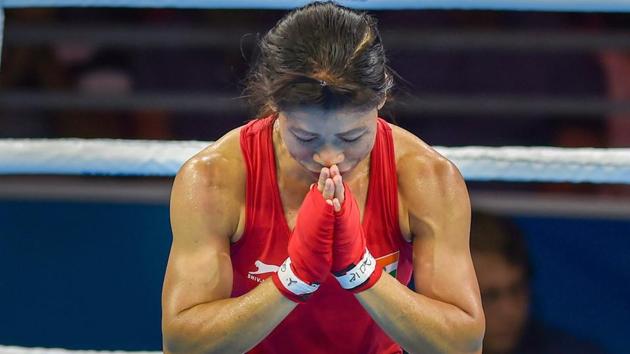 Updated on Apr 14, 2018 09:07 PM IST
Medals do matter for boxing legend MC Mary Kom. The 35-year-old has won an Olympic bronze medal, five world championship titles, five Asian Championships, Asian Games gold and Asian Indoor Games gold, many national and international tournaments. The Commonwealth Games gold was the only one missing from her collection as women's boxing was added to the programme only in 2014, she did not qualify for that edition. But on Saturday, she added the CWG gold too to her collection by winning the 48kg class in Gold Coast. (CWG live updates)
However, despite winning all these medals and earned so many laurels, the hunger is still there. She is still as committed to the sport as she was when she started, despite the added responsibilities of a family and children.
READ MORE | Mary Kom leads India's golden run on Day 11 of Gold Coast Commonwealth Games
It is this hunger for success makes her going. Despite many people expecting her to announce retirement after winning the Commonwealth Games medal, Mary Kom said she still has some unfinished business – winning the Olympic gold medal.
"I have won everything (the sport has to offer) and all of them (medals) are very important. Do I need to say more? Which other boxer can claim that, now I would not be scared of anyone. I am very happy that I created history, I have got everything," Mary Kom said after winning the final against Kristine O'Hara at the Oxenford Studios in Gold Coast.
Magnificent Mary is not thinking of hanging up her gloves -- there is still one thing on her mind.
READ MORE | 2018 Commonwealth Games shooting: Sanjeev Rajput wins gold in men's 50m rifle 3 positions
"I still think about Olympics gold because, other than that, I have got everything. Even in Olympics, I do have a medal (bronze). I haven't left out anything," said Mary Kom.
Asked whether she was thinking of getting the elusive Olympic gold in Tokyo in 2020, Mary Kom said: "I don't have injuries, all I have is minor issues like cramps sometimes. 2020 is difficult to say, but I will try my best. 48kg (her weight class) is not there and I will have to put on weight, which is never easy. If I am super fit till 2020, I will compete. But if I am not fit I will not," she added.
Asked how does she manage to motivate herself to train even after so many years, Mary said: "When I decide something with my head and heart, I get into it fully. Even my husband cannot stop me. He sometimes tells me to take it easy after competitions but I can't help it. I have to train to keep myself calm.
"It is a strong urge, it's a habit and training makes me happy. When I don't train, I feel sick sometimes," she said.
Close Story