Dear Me: Follow your heart even if it means being an outlier - Shiva Keshavan
Updated on Aug 05, 2017 11:24 PM IST
Shiva Keshavan, in a letter to his 15-year old self, tells him not to care about sceptics.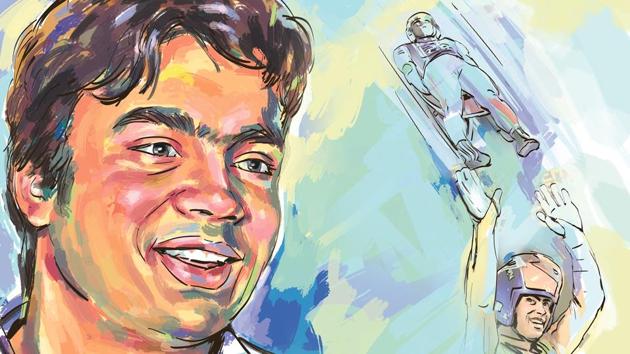 Dear 15-year-old Shiva,
You will find this hard to believe but when you are in school tomorrow, your life is going to change forever. You remember that winter talent scouting camp in Panchkula you went to for two weeks? Yes, the one where they made you roll on the streets on a strange sled with wheels. Well, guess what? They liked you. Now they want you to try the real thing. They want to teach you how to flit down icy slopes at breakneck speed. In Austria.
In another month, you will be at a small village called Igls in Austria. And although you won't know this while you're learning how to speed down ramps made of ice, this is your destiny.
You're never going to forget the first time you see the sled flying down a luge track. You've been skiing down the slopes in Manali since you were a kid but this is a different animal. And although they won't let you start from the top of the luge track, this will scare you a bit. But you will gather courage by watching the others do it. And once you do it, there's no stopping you. You're hooked.
When you're 16, you will get lucky again. You're at Innsbruck to see the luge world championships and the course organisers think it will be a good idea to have an Indian as a forerunner. So you navigate the whole course and although you are just a forerunner, sharing the stage with the world's best will stir something in you. Of course, they're much faster than you. But you see that you are at a level where you can strive to be like them. Maybe even surpass them someday.
READ | Rajasthan High Court's order to implement Lodha panel norms irks sports bodies
I know you're thinking that all this sounds highly improbable. After all, you had not even heard of this sport until a few days back and now you're being told you will want to do this for a living. But trust me, you will.
I know it's not exactly a conventional life choice for a boy growing up in India. But your family couldn't care less about convention. Not your mother, an Italian by birth, who travelled to India via road with three friends in the 1970s. And definitely not your father, a Malayali who started a trekking company in Himachal Pradesh. Most Indian parents would not understand. Yours do. They're adventurers. They urge you to follow your heart.
Follow your heart and you will make it to the Winter Olympics at Nagano in 1998. And four more after that.
I know what you're thinking. I still have trouble believing it. You're 16. And you're off to compete for India at the Winter Olympics.
READ | Dutee Chand crashes out in 1st round of IAAF World Championships
Your Olympic dream will nearly hit a speed bump before it takes off. You will reach the Nagano Games Village and the mayor comes out to have a word with you. He's heard of you from countless newspaper articles profiling the Indian luger who is also the youngest ever Winter Olympian. 'But your country hasn't sent any paperwork, so I cannot let you enter,' he says with a shrug. You're locked out of the Olympic Village for half a day.
Finally when you do enter, you stick right out. When you introduce yourself, almost everyone does a double take. 'Indian?' they ask. 'Does it even snow there?' they want to know. Few of them even want to click a picture with you.
You're like an American who plays professional cricket. An outlier.
But the surprise you cause at the Olympics is nothing compared to the raised eyebrows back home when you say you are a luger. People won't get it. Sometimes, even after all this while, people back home still don't get it.
READ | Ramakrishnan Gandhi, Satyanarayana nominated for Dronacharya Award
But in the luge circuit, you will already be making waves by the time you're 21. The Italians will ask you if you want to compete for them. They'll also give you a job as a policeman. Cushy job, training with advanced equipment, the works. It's an offer you cannot refuse. But that's exactly what you do. Competing under any other flag is unimaginable.
With time you will realise it's a bigger challenge to convince Indians to take luge seriously than to tell foreigners about India's winter sports culture.
There are no luge tracks in Manali, where you come from. Not as though there is one anywhere else in India. So you make do with what you have. You train just the way you first did in Panchkula — on the road with a makeshift sled with roller wheels attached underneath instead of the steel runners used on ice. Only this time, you hurtle down winding highways with cars speeding up the opposite direction. This doesn't particularly help you prepare for competitions. But when life gives you lemons...
Luge can sometimes be an intensely secretive sport. Each country customises its own sleds. Each modification is a closely guarded secret. US Steel, DOW Chemical and Virgin Galactic help the Americans with their runners. BMW and others help the Germans.
READ | Akhil Kumar, Neeraj Goyat win in style as Indians dominate undercard bouts
You? You'll make do with an old sled you borrowed and modified yourself. Initially. Eventually you will be able to work with some of the best technicians in the world who are inspired by your story.
Before a race, a foreign journalist looks at your sled and remarks, 'This is like trying to compete against a Ferrari in a Volkswagen'. So you name the sled Maruti.
In 20 years, you will never get a single dime from your national federation. There will be officials who will tell you point blank that winter sports have no future in India.
Your first sponsor will come only after hundreds of companies have turned their backs on you.
There will be occasions during which your mind too will be wracked by doubts. There will be times when you are left with no money. You will owe money to banks and friends.
On days like these, remember: you've made your decision. Have the guts to follow it through. Of course following your convictions isn't going to be easy.
READ | Slow start can't stop Usain Bolt at last IAAF World Athletics Championships
You will grow up as someone who is outspoken. And you will pay a price for it. You won't be given your Olympians' badge for three Olympics. At the 2006 Games, your Olympic participation medal won't be given to you. You'll be told that it was stolen from the Games Village. You will finally get it after a two-year long legal battle.
There will always be doubters. You will think winning medals would shut them up. Like in 2008 when against all odds, you win bronze at the Asia Cup. You will think when you go back, people won't be skeptical anymore. But you will be wrong.
The trick is not to care about the sceptics.
Besides, the sport will give you other joys. You will become the fastest luger in Asia. You will be made the president of the Olympians Association of India. You will be the torch-bearer for winter sports in India.
Yes, you will perpetually find yourself up against Ferraris in a Maruti. There will be deep regrets and even deeper dejections. But given an opportunity to start over again, I know you would you choose the same career path.
Love and hugs
Shiva Keshavan
(As told to Amit Kamath)
Personalise your news feed. Follow trending topics