F1: Romain Grosjean has narrow escape after drain cover blows out at Sepang circuit
Updated on Sep 29, 2017 09:19 PM IST
A drain grille at Sepang Circuit popped up at a kerb on turn nine after Kimi Raikkonen's Ferrari drove over it and a few seconds later Romain Grosjean hit the same spot at more than 200 kilometres (124 miles) an hour, with disastrous effect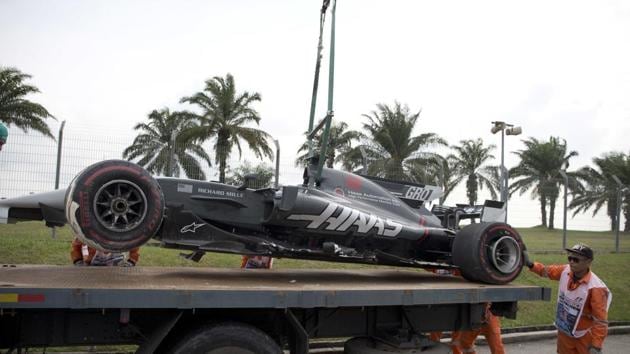 Agence France-Presse, Sepang |
Agence France-Presse
Formula One officials launched an inspection of every drain cover at the Sepang circuit Friday after Romain Grosjean suffered a frightening tyre explosion during Malaysian Grand Prix practice.
A drain grille, which should have been welded down securely, popped up at a kerb on turn nine after Kimi Raikkonen's Ferrari drove over it.
A few seconds later Grosjean hit the same spot at more than 200 kilometres (124 miles) an hour, with disastrous effect.
The impact instantly ripped his right rear tyre from its rim and threw his Haas into the barriers.
Happily Grosjean was able to walk away, and declared "I'm all right" as the second practice session was red-flagged with 20 minutes remaining with a gaping hole left in the track.
Haas team principal Guenther Steiner later slammed the incident as "unacceptable".
"Thank God he didn't get hurt or anything," Steiner told a press conference.
"In my opinion, things like this in 2017 shouldn't happen on a permanent circuit, they shouldn't happen on any circuit.
"This is in my opinion not acceptable, it is not up to the standards... in the race this would have been a bigger disaster."
Grosjean had no idea what had caused his crash until he saw TV replays.
"I've just seen the footage. I didn't see anything," Grosjean told reporters.
"The next thing I knew was that the car was not there any more. It was just spinning and heading for the wall."
Race director Charlie Whiting said that the cover had been welded down but had broken loose and would be replaced.
Asked if that meant his crew now had to inspect and repair every drain cover on the 5.543-kilometre layout, Whiting said: "Yes. For the rest of the day we shall concentrate on that. They've been welded a long time I expect.
"So we shall re-weld where necessary and then tonight we shall check everything. We have to get it fixed for tomorrow."
Red Bull's Daniel Ricciardo said it was not something that any driver wanted to worry about when entering a corner at high speed.
"Hopefully they check all the drains tonight," the Australian told reporters after practice.
"Obviously it needs some attention. Because you do not want to think about it in the race. Some corners you really need to use the kerbs to let the corner flow and to use the momentum flow. So hopefully they fix it all."