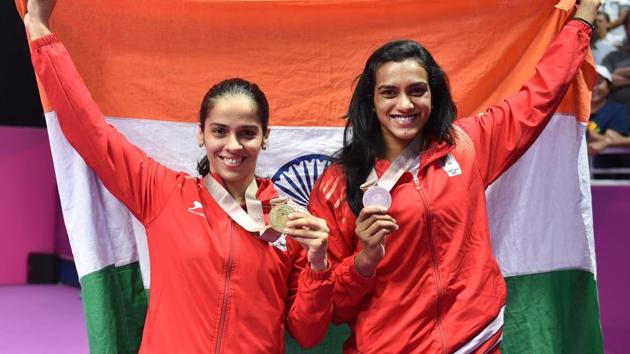 In battle between Saina Nehwal and PV Sindhu, Indian badminton the winner
Saina Nehwal defeated PV Sindhu to clinch the women's singles gold at the 2018 Commonwealth Games on Sunday.
UPDATED ON APR 16, 2018 08:44 AM IST
This is an incredible and unprecedented phase for Indian badminton. With the withering away of the Chinese domination, two girls – Saina Nehwal and PV Sindhu – have emerged as the ones to beat in the international arena.
Pitted against each other in the Commonwealth Games final on Sunday, Saina eked out her third consecutive victory over Sindhu in six months, counting the wins at the National Championships final in November 2017 and the quarterfinal victory at Indonesia Masters in January.
READ | 2018 Commonwealth Games: Gold Coast bids adieu with colourful ceremony
This was a tremendous win for the two-time CWG champion, who displayed pure grit, aggression and finesse to finish off Sindhu's challenge in straight games and take home the women's singles gold, eight years after her win in New Delhi.
It was also an emotional and mental battle for her. Though she has had much bigger victories in the past, Saina rated the title next to the Olympic bronze she won in London 2012. And that is because of the pressure of playing her compatriot Sindhu.
Whether Saina likes it or not, ever since the 2016 Rio Olympics, Sindhu has become the poster girl of Indian badminton, taking the spotlight away from Saina. She has emerged as not only the biggest star in Indian badminton but also across sporting disciplines – an example being that she was the flag bearer for India at the opening ceremony. At the Games too, Sindhu was seeded No.1 while Saina was No.2.
READ | 2018 Commonwealth Games: Young, old 'shine bright like a diamond' in India's eventful campaign
Hence, the pressure of winning against the 22-year-old Sindhu at one of the biggest stages was upon Saina, who admitted that winning the 2018 gold was tougher than 2010 .
"It was much more tough (than 2010) because the pressure is always there when you already have a gold. It's a very emotional moment because I've been waiting for one good, big victory after that disappointing loss at Rio where I had to retire because of my injury," Saina said after her victory.
"It's a healthy rivalry, people enjoy it. No doubt we are under tremendous pressure ."
READ | 2018 Commonwealth Games: Sachin Tendulkar showers praise on Saina Nehwal, PV Sindhu
Saina's performance has been on a steady rise ever since her return following the surgery.
Sindhu, on the other hand, lost yet another final. Though she has had big victories of late, Sindhu has also lost several important finals since the Rio summit clash, like in India Open (2018), Superseries Finals, Hong Kong Open, World Championships (all in 2017) and now in Gold Coast.
Sindhu, chief national coach Pullela Gopichand and her support staff perhaps need to work more on her mental toughness because she definitely has got the game to beat the best.
India would hope the two badminton queens keep bringing more laurels.
Close