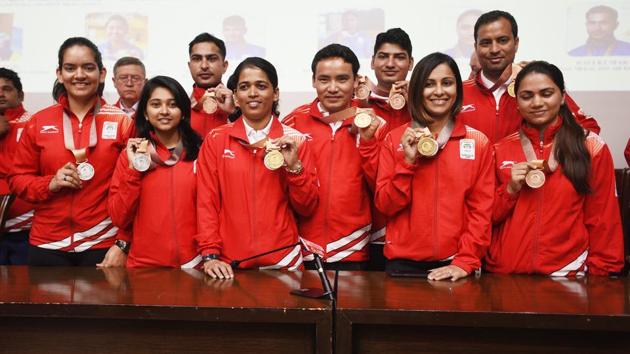 Personal coaches must be given credit for Indian shooters' 2018 Commonwealth Games showing
With Indian shooters scripting a success story in the 2018 Gold Coast Commonwealth Games, all credit is being given to the national coaches, which isn't right.
By Shimon Sharif
UPDATED ON MAY 09, 2018 03:08 PM IST
It's that time of the year when every coach worth his salt is trying to take credit for the Indian shooters' showing at the 2018 Commonwealth Games in Gold Coast.
It reminds me of the time when Abhinav Bindra returned home with the historic gold from the 2008 Beijing Olympic Games. Indian coaches and officials, travelling with the team, wasted little time to take credits for his feat. But Bindra made it loud and clear who his actual coach was.
In his hour of glory, Bindra acknowledged the contribution of his coach in his formative years. In fact, he did his last training session before flying to the 2016 Rio Olympic at his home range in Chandigarh his first coach, Col (retd) JS Dhillon.
READ | Gagan Narang-Pooja Ghatkar win silver medal in Czech shooting meet
With Indian shooters scripting a success story in Gold Coast, all credit is being given to the national coaches, and even some sports NGOs are not leaving any opportunity to bask in borrowed glory. Of course, Indian shooters now are being managed better, but to give credit for their success to someone who doesn't deserve it is unfair.
It's not that just a few national camps have made them world beaters; they have trained — and trained hard — with former shooters-turned-private coaches to reach this level.
And now the coaches associated with national camps want to reap the benefits, for obvious reasons. The sports ministry not just rewards athletes who win medals abroad handsomely but also the coaches.
READ | After CWG flop shot, federation to hire expert to boost shotgun shooters
Sunny Thomas, the longest-serving former national coach, and recipient of the Dronacharya Award in 2001, was more a manager than a coach but took all the credit for the shooters' performanve at the Commonwealth Games, world championships, world cups, Olympic Games and the Asian Games.
No one ever tried to find out who the real men and women were behind the success of the team. I can say this without an iota of doubt that Sunny sir was just a manager, nothing more.
Olympian rifle shooter Joydeep Karmakar's trainee and Commonwealth Games silver medallist Mehuli Ghosh is a result of systematic training at his academy in Kolkata. No one has the right to take credit for Mehuli's success other than Joydeep.
READ | 2018 Commonwealth Games: Anish Bhanwala, Tejaswini Sawant win shooting gold
He handles every aspect of Mehuli's, right from fine-tuning her gun to her training regimen. Mehuli too listens to no one other than Joydeep even during national camps. The national coaches are not allowed to make any changes in Mehuli's technique.
How many of us know that 15-year-old Anish Bhanwala, who became the youngest CWG gold medallist from India, is trained by Harpreet Singh, the 2010 CWG gold medallist. "Harpreet is our neighbour in Karnal, Haryana and is the one who has trained both my children Anish and Muskan," says Anish's father Jagpal proudly. Anish and Muskan won gold in the Junior World Cup in Sydney.
Another teen sensation Manu Bhaker, who also won the CWG gold, has been trained by Anil Jakhar who has been her coach since the day she stepped into the shooting range at her school in Jhajjar, Haryana. But Harpreet and Anil have been conveniently sidetracked and praise is being showered on national coaches.

READ | India finish on top with 20 gold medals at South Asian Junior Athletics Championships
However, Apurvi Chandela was quick to acknowledge former national champion Rakesh Manpat for guiding her, in a tweet after she won the air rifle bronze at Gold Coast. Heena Sidhu, winner of gold and silver at the CWG, made it clear in a tweet that only her husband and coach Ronak Pandit deserves the credit for her success.
But this is not saying that national coaches don't have a role to play; my only plea is share the credit equally.
(The writer is a former India shooter. The views expressed here are personal.)
Close