Sudha Singh wins gold in in Asian Athletics Championships steeplechase
Jul 08, 2017 11:34 PM IST
Sudha Singh continued India's great run in the Asian Athletics Championships as she secured gold in the women's 3000m steeplechase event to qualify for the world championships while Anu R missed out on gold in the 400m hurdles event.
India's Sudha Singh won gold in the women's 3000m steeplechase on the penultimate day of the Asian Athletics Championships at the Kalinga Stadium on Saturday. The Indian runner led from start to finish timing 9:59.47 secs. It was far slower than her personal best of 9:26 secs clocked at the 2016 Shanghai Diamond League.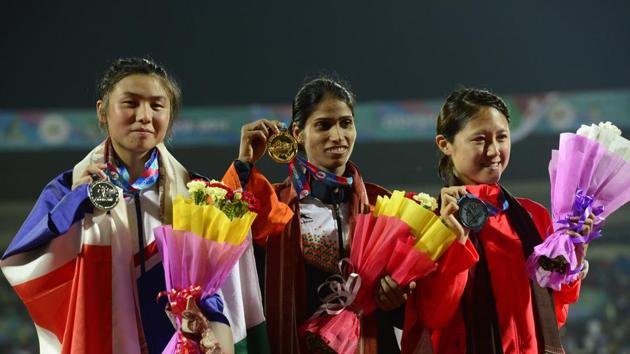 In a slow tactical race, Sudha pushed the pace after four rounds and thereafter never looked back. When she surged ahead, other runners weren't able to respond and fought for lower positions.
Sudha said, since she wasn't challenged she decided to take it easy. "My focus in the race today was to win gold and not the time. Half way through the race, I knew I will win. So it was sort of a practice session for me," she said during the post-race interaction.
"After Rio Olympic Games, I didn't train for nearly six months due to illness. But now I am on the right track,'' she said. The UP runner is hopeful of improving her time in the global meet in London. "Since I could do well at the Rio Olympic Games, I don't want to miss this chance in London," she added.
Anu R narrowly missed gold in the women's 400m hurdles, but had the satisfaction of clocking a personal best of 57.12 secs.
Running in lane five, Anu was quick off the blocks but on the last bend Vietnam's Nguyen Thi, the eventual winner, went ahead. The national record is 55.42 secs set by PT Usha at 1984 Los Angeles Olympics.
In the men's 400m hurdles Jabir MP made a dash in the last 10m to win bronze. It was also Jabir's first international medal. Indian team earned two more bronze medals one each in women's triple jump through Sheena NV. The women's 4x100m relay anchored by Dutee Chand was the third bronze of the day.