10-year-old in Bihar digs pits to save grandmother from open-defecation stigma
Hindustan Times, Bettiah (Bihar) |
, Bettiah
Sandeep Bhaskar
Sep 24, 2018 01:27 PM IST
Heera Kumar came to know that his grandmother, Geeta Devi, had given up the idea of constructing a toilet owing to its cost. So he decided to use a khurpi (spade) to dig two pits.
If you dismiss childhood as merely a stage synonymous with innocent and carefree life, think again.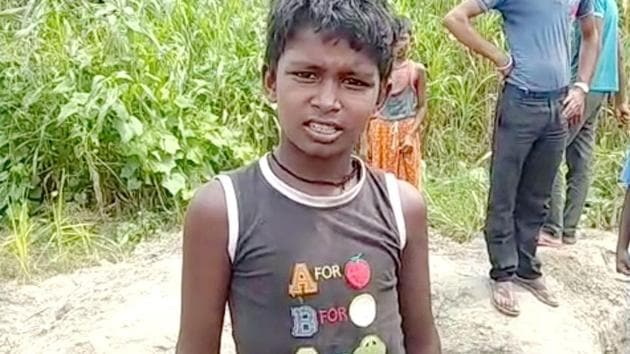 Showing maturity beyond his age, a 10-year-old boy has single-handedly dug two four-foot pits at a village in Bihar's East Champaran district, to save his ageing grandmother from stigma of open defecation.
Heera Kumar has virtually become the role model of Swachhta Abhiyan (cleanliness campaign) in Champaran.
A resident of Jamuniya village in Jagdishpur panchayat, Heera had come to his maternal grandmother's house at Ghiwadhar village in Harsiddhi block, about 190km north of Patna, 10 days ago. He learned that his grandmother, Geeta Devi, had given up the idea of constructing a toilet owing to its cost.
"Like many other villagers, she too wanted to avoid embarrassment caused by open defecation. But she did not have money to build a toilet. I could not bear to see her helplessness," said Heera. Seeing this, Heera used a khurpi (spade) to dig up two pits.
Devi has no male members at home as her two sons work outside the state.
"It took him two days to dig the pits, and afterwards he fell ill. Now, we have decided to complete the construction within a week," said Rita Devi, mukhiya of Ghiwadhar panchayat.
The courage shown by the boy has taken everyone by surprise. "Heera is actually a heera (diamond) and a role model of Swakchh Bharat Mission. We will do everything to encourage and support such stories so that more and more people and children gravitate towards the cleanliness drive," said Raman Kumar, district magistrate of East Champaran.
"East Champaran is very close to becoming open defecation free. We have detected some gaps, arising from a cross section of landless people. We are still encouraging them to refrain from open defecation," said the district magistrate, adding that 87% of East Champaran household had toilets.
Meanwhile, Union agriculture and welfare minister Radha Mohan Singh acknowledged Heera's efforts. Singh visited the village and felicitated him on Friday. He also announced a sum of ₹10,000 for the boy's education.