Central Railway Pune division has seen 2,127 track trespassing deaths in 6.3 years. What next?
Besides enforcing rules, railway department is also creating awareness on following safety rules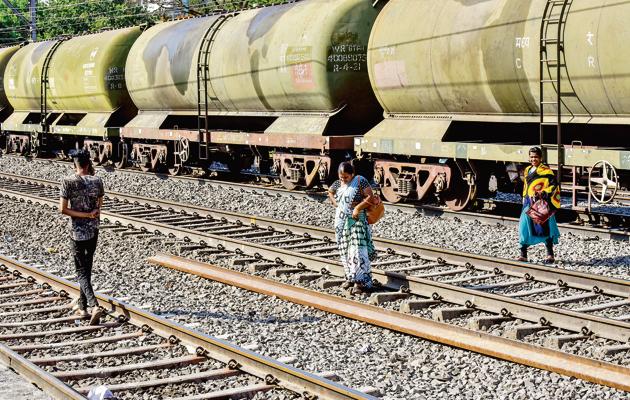 Updated on May 15, 2019 07:00 AM IST
A total of 2,127 lives have been lost in the last six years due to trespassing in the Central Railway Pune division .
The number of deaths due to track trespassing has been on the rise, year after year and railway officials of the Central Railway Pune division consider this as one of the department's failure.
While the railway officials are to be blamed for not enforcing rules, the citizens, who choose this route instead of the foot over bridges, just to probably save travel time, have to take responsibility for the large number of deaths.
"The department has worked on the spots vulnerable to trespassing by building boundary walls. However, no matter what we do, trespassers find different spots to cross the tracks. Besides, the Pune railway station has slums nearby , which add to the trouble," said a senior railway officer, on condition of anonymity.
Section 144 of the Railways act states that trespassing on the railway tracks is a punishable offence with imprisonment upto six months and or fine upto ₹1000. According to the official data from the Indian Railways, at least 50,000 have lost their lives between 2015 and 2017, while trying to cross the track.
While 7,908 such deaths were reported from the Northern Railway zone, 6,149 deaths were reported from Southern Railway zone and 5,670 such deaths were reported from the Eastern Railway zone.
Besides enforcing the rules, the department is making determined efforts to create awareness about trespassing and its consequences, said a senior official from the engineering department.
"We have been regularly holding meetings with the people in slums and are distributing pamphlets in the vicinity of the railway station. The tragic incident that happened last year in Amritsar was a result of people standing on the tracks, however, people refrain from abiding to rules and continue track trespassing" said the official.
A train mowed down 62 people as they were watching a Ravan effigy being burnt while standing on railway tracks near Amritsar on October 19. This brought track trespassing to the limelight again.
Close Story