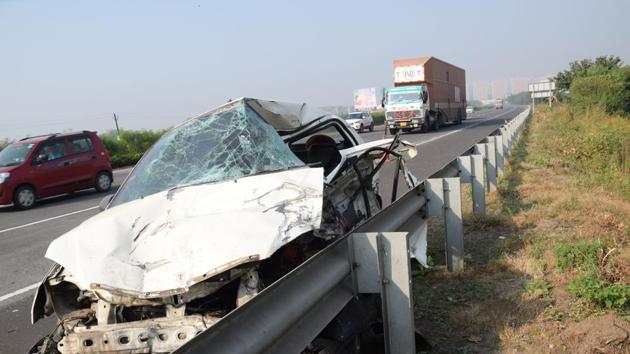 Monday Musings: Five golden rules for safety on Indian roads
The three most important causes of accidents are improper lane changing/lane usage (30%), speeding (29%) and driver fatigue/sleep/drowsiness (11%).
Hindustan Times, Pune | By Abhay Vaidya
, Pune
UPDATED ON APR 02, 2018 03:05 PM IST
For a number of years now, India has had the ignominious distinction of leading the world in the number of road accidents and road accident fatalities.
For some strange reason, our society hasn't woken up to this reality. We refuse to wear helmets and seat belts and almost every day people are killed in high-speed collisions on the expressway, when, in fact, there ought to be no accidents on this well-maintained highway.
Our hearts bleed day in and day out when we read of young lives snuffed out needlessly in road accidents.
There are so many things we want to do before we die. And the worst thing is to die needlessly in a road accident. Especially, if you are in your 20s and 30s or still younger, which is what has been happening on Indian roads day in and day out.
No country in the world can claim 100% road safety, but what is happening in India is as crazy as it can get. An analysis of 155 road accidents on the Pune-Mumbai Expressway during January-December 2016 showed that 93% accidents were due to human error.
The three most important causes of accidents were improper lane changing/lane usage (30%), speeding (29%) and driver fatigue/sleep/drowsiness (11%).
This study was conducted by JP Research India Pvt Ltd and was submitted to the Maharashtra government's Additional director general of police (traffic).
Although this study was specifically about accidents on the expressway, by and large, the reasons for accidents on most Indian roads are no different: human error: 90%, improper lane changing, speeding and driver fatigue.
Drawing from this, here are some golden rules for safety on Indian roads:
• Avoid driving at night, especially after midnight: I avoid night driving like the plague. The expressway study showed that the highest number of serious/fatal accidents occurred during midnight to 6 am. This was followed by the 6 am to noon slot. I am puzzled by the high number of accidents during the morning hours from 6 am to noon. Probably this is also a spill-over of long-distance night travel. Bottom line: Do not travel on Indian roads after midnight.
• Go slow: I love driving at a moderate speed in the city listening to my audiobooks. Slow traffic and traffic jams don't bother me at all. When you drive "slowly," you are in better control of your vehicle, you let the speedsters pass by and often, those around you also reduce their speed. All of this increases safety.
• Helmets and seat belts: Only the foolish don't wear helmets or seat belts, with very serious consequences if, unfortunately, they get caught in an accident.
• Lane cutting: You are not married to any lane and there are ways to change lanes. It's best to change lanes safely and carefully. There have been occasions when I've done some unsafe lane changing and that's made me very guilty.
• Don't drink and drive: Once again, very basic but also one of the major 'chalta hai' causes of serious accidents. If you're going to party, it's best you don't drive. Hire a cab or let someone else drive. Life is too precious to be lost in a road accident.
abhay.vaidya@htlive.com
Close