Pune residents demand probe into PMC's Rs 21 crore e-learning project
The presentation revealed that a number of facilities were lying unused at the schools, which if put to use could bring down the total cost of e-learning to
₹
3.5 crore, instead of
₹
20.99, as quoted by PMC.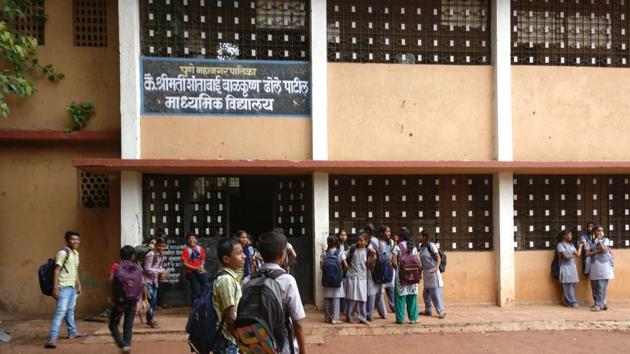 Published on Oct 28, 2017 11:30 PM IST
Hindustan Times, Pune | By Ananya Barua
, Pune
Citizen activists have demanded a probe into the approval of Rs 20.00 crore by the Pune Municipal Corporation's (PMC) Standing Committee for installing e-learning infrastructure for municipal schools.
The approval was granted recently for e-learning systems and virtual classrooms in 287 municipal schools.
Speaking to Hindustan Times, president of Sajag Nagrik Manch, Vivek Velankar said a presentation had been given, few months ago, in the presence of Union Minister Prakash Javadekar, Pune Municipal Commissioner , Mayor, Chairman of Standing Committee and other office bearers laying out the factual data collected by a teacher during his inspection of the municipal schools.
The presentation revealed that a number of facilities were lying unused at the schools, which if put to use could bring down the total cost of e-learning to ₹3.5 crore, instead of ₹20.99, as quoted by PMC.
"These schools already have a lot of equipments gathering dust; they need to put that into use first," Velankar said.
As per the presentation, the 287 PMC schools currently have 861 LED or LCD televisions, 281 computers and 287 projectors. To kickstart the E-learning procedure in the schools, PMC is required to buy cameras, Interactive IR sensors and other small devices worth ₹3.5 crore.
Responding to the opposition, Murlidhar Mohol, chairman of PMC's Standing Committee said, "It is not that the available equipments will not be used but some of them are old which cannot sync with the E-learning set-up. The computers available, for instance are used in the labs, but for E-learning we need upgraded ones. We will be installing a lease line by BSNL for internet connectivity as one of the elaborate set-up of the project. Also, the amount of ₹20.99 crore is spread over 3 years, with us spending ₹10 crore on the first year. The Rotary Club under their CSR has agreed to provide ₹1 crore for the same," he said.
Nagrik Chetna Manch president, Major General SCN Jatar said, "I believe there is more to this issue than what meets the eye. With so many questions coming up against the project and such a serious allegation, I think the commissioner should suspend the operation of the contract and carry out an inquiry. Citizens can no more be taken for granted. The taxpayers' money cannot be wasted in such a manner."
Close Story