Blood bond: Bombay Blood Group patient from Ludhiana helped by Mohali resident
May 05, 2018 08:29 PM IST
Ram Ajoor, 60, a migrant running a pan shop in Ludhiana came to CMCH with anaemia and complications due to diabetes on Wednesday. Dr Lydia Solomon diagnosed that Ajoor needed blood transfusion and his sample was sent to the hospital blood bank
In a first such case in the city, a Bombay Blood Group patient was reported at the Christian Medical College and Hospital (CMCH). Bombay blood group was first discovered in Bombay by Dr YM Bhende in 1952 and is very rare (about 4 cases per million).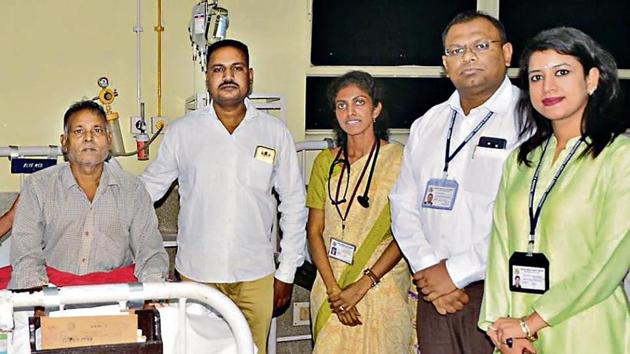 Ram Ajoor, 60, a migrant running a pan shop in Ludhiana came to CMCH with anaemia and complications due to diabetes on Wednesday. Dr Lydia Solomon diagnosed that Ajoor needed blood transfusion and his sample was sent to the hospital blood bank.
On initial evaluation, his blood group was found 'O positive', however doctors found O positive was incompatible with Ram Ajoor's blood.
An advanced immuno-hematology test was done by Dr Aikaj Jindal, in-charge, department of transfusion medicine, and he found that the patient carries very rare 'Bombay Blood Group'. Dr Jindal said it is the first such case of Bombay Blood Group reported in the city. A team of CMC Blood Bank lead by Dr Jyotika Arora conducted nation wide search for the donor as such patients cannot receive any other blood group.
Their search led them to Sankalp India Foundation who led them to a donor in Mohali district. Harjinder Singh, 40, a resident of Kaimbala village in Mohali district was called by Dr Jyotika and he was more than happy to help Ram Ajoor.
Harjinder Singh, a transporter, said, "I came to know about my blood group a decade ago when my brother was admitted to hospital for some ailment. Both of us have Bombay Blood Group. I have been regularly donating blood at Post Graduate Institute of Medical Education and Research (PGIMER) in Chandigarh."
Blood was successfully transfused on Friday with the doctors at the department of transfusion medicine and the department of general medicine at CMCH.
Dr Anil Luther,medical superintendent, CMCH, congratulated the team for their efforts. He added that advanced immuno-hematology testing led to the identification of such a rare blood group saving a precious life.