Watch | Blaze at Chandigarh's Bank Square in Sector 17, fire safety up in flames
Furniture, old files gutted at Punjab treasury office; fire-safety equipment found not working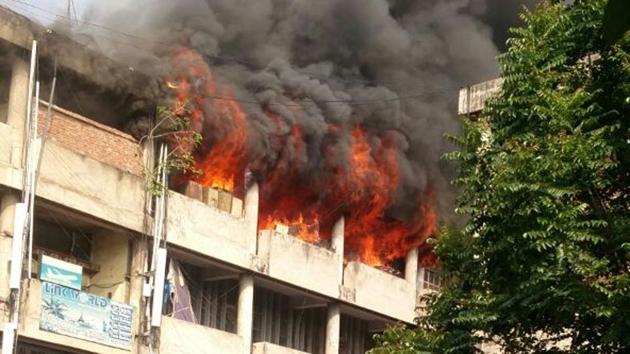 Updated on Jul 03, 2017 09:12 PM IST
In yet another blaze at the Sector-17 Bank Square, the Punjab treasury and accounts office — located on the fourth floor of Punjab Financial Corporation building — went up in flames on Monday.
The fire that broke out around 3pm at shop-cum-office (SCO) 95-96 was brought under control before it could spread to the remaining floors and buildings, but not before creating panic in the area.
As the treasury office is being shifted to Punjab Yojana Bhawan in Sector 33, only the furniture and some old files were gutted.
But the incident has once again brought to the fore poor fire safety arrangements in the area.
When the fire started, the labourers and electricians, who were removing the fans and air conditioners, were out for lunch.
A labourer, Deepak, who saw smoke billowing out of the building raised the alarm.
Deepak said within minutes, the fire spread and entire furniture and files were gutted. "We were shifting the things for the past four days," he said.
Fire officer Madan Lal Sharma, who was on the spot, said though the exact reason has not been ascertained yet, the fire seems to have been caused by a short circuit.
The building's fire system was not in working condition. Hydrants, detectors, hose reel, sprinklers, smoke detectors and water tank, nothing was operational.
"We will soon issue a notice to them," he said.
Chief fire officer Shilpi Dutta Pattar said: "I have already issued directions for the audit of buildings in Sector 17. The fire department has already started with government buildings."
30 minutes lost due to jam-packed parking lot
Even as the department pressed eight fire tenders into service at 3.15 pm, the firefighters took half an hour to reach the rear of the building, from where flames were rising.
Reason: Heavy vehicle rush in the paid parking.
"We had a tough time reaching the building's rear, as vehicles were parked there. We had to bring our fire tenders from the other side, which took nearly 30 minutes," said Sharma.
As per norms, each parking lot should demarcate fire zones. But in Chandigarh, these are missing at all parking lots.
Meanwhile, there was panic among people working and visiting the adjoining buildings in Bank Square. All of them vacated the buildings, including Hotel Haryana, which is next to the financial corporation building.
A visitor to Hotel Haryana, Dinesh Kumar, said: "As we saw smoke, we ran out in the open. There was panic and most people working in the banks in nearby buildings had also come out.
Close Story