Chandigarh, get ready to pay double for parking from November 1
Oct 23, 2017 12:53 PM IST
App launched: Cost to increase, even as the system promises that you can book your slot; better security etc; app is downloadable from Oct 25
All 26 parking lots in the city will go smart by November 1. This is was disclosed on the day the parking contractor launched an App to let residents know the status of parking availability in real time.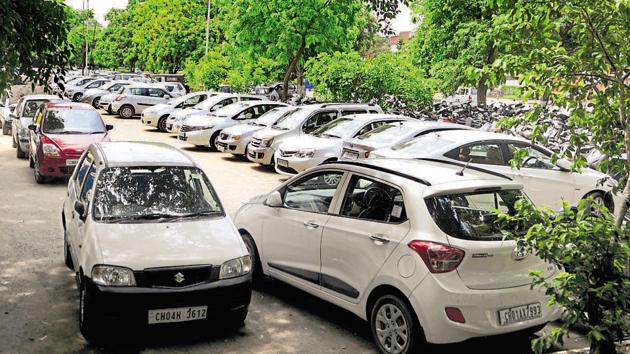 The new system will mean two things.
One, parking your car will now cost double per entry straightway, at Rs 10 per entry, and Rs 10 after every two hours therafter. Second, parking lots will be equipped with automatic boom barriers.
Also, 430 CCTV cameras will be installed.
You can pay using App
The App — available for downloads for residents on October 25 — will serve several functions for residents to know the status of parking availability in real time, online bookings for parking, map of the route to find the nearest parking and the facility to offer feedback. One can also make the payment through the App.
A two-wheeler will be charged Rs 5 for first four hours and Rs 5 after every two hours. Now, there is a flat rate of Rs 5 per entry for car and Rs 5 per entry for two-wheelers.
Speaking to HT, MC commissioner Jatinder Yadav said, "We gave an ultimatum to the contractor and he is complying." Sandeep Bhora, project head of the Mumbai-based firm, that is manning the lots, said, "We will launch smart parking from November 1," Bhora added.