Free smartphones on mind, Captain Amarinder meets Ambani
Updated on Oct 31, 2017 09:51 PM IST
The CM said he is confident that Jio's "rock bottom prices" make fulfilling the promise "imminently possible".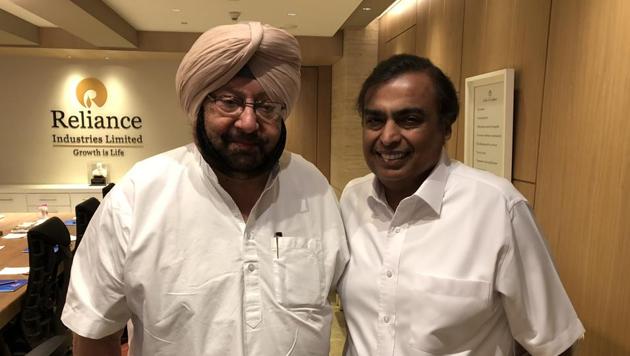 With the Congress poll promise of free smartphones to the youth still to come true, Punjab chief minister Captain Amarinder Singh met Mukesh Ambani, chairman of Reliance Industries Limited (RIL) that owns Jio mobile phone services, in Mumbai on Tuesday. While the CM said he is confident that Jio's "rock bottom prices" make fulfilling the promise "imminently possible", Reliance too made a presentation at delegation-level talks later and is keen on expanding its base in Punjab.
According to the press release issued by the CM's office here, he met Ambani soon after his arrival in the country's financial capital, where he is scheduled to address the Invest North meeting of Confederation of Indian Industry (CII) on Wednesday. Their one-to-one meeting was followed by delegation-level talks during which Reliance made a detailed presentation on businesses.
He also sought cooperation across other sectors, including retail, agricultural productivity, food processing and manufacturing, saying that Ambani's support would "go a long way in providing early impetus needed for bringing a change in Punjab".
'Mandi in pocket'
Ambani, a government spokesperson said, suggested digitisation of the food chain process with a mobile app to manage and handle all operations, including marketing, farmer inputs, storage and transportation. "It will be like having the mandi in the pocket," he reportedly said.
On retail, Ambani said his company is keen to expand its Hoshiarpur plant, which currently employs 2,000 people.
The CM listed data as the "new oil" fora "fourth industrial revolution" and said his government would be happy to provide the requisite infrastructure for setting up towers and strengthening the telecom sector. He also asked Reliance to take up farm-to-factory projects.
"Punjab is now surplus in power and can provide it at one of the cheapest rates, besides other fiscal and non-fiscal concessions that cannot be easily matched by others, together with a reception and hospitality that Punjab has demonstrated for decades," Amarinder told Ambani.
Personalise your news feed. Follow trending topics