Sikh woman on Pak pilgrimage embraces Islam, marries Lahore man
Kiran Bala went to Pakistan on her Indian passport with Pakistan visa valid till April 21.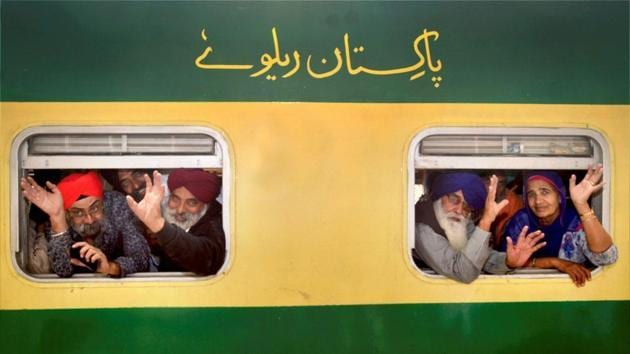 Updated on Apr 19, 2018 08:48 PM IST
Indo Asian News Service, Chandigarh | By HT Correspondents
, Garhshankar (hoshiarpur)/amritsar
A 31-year-old Sikh woman from Garhshankar in Punjab's Hoshiarpur district has converted to Islam and married a Lahore-based man after going "missing" while on a pilgrimage in Pakistan, it emerged on Thursday. The woman, Kiran Bala — now Amna Bibi — was married to a mechanic, Narinder Singh, who died in a road accident in 2013, and has left behind her three children, aged 6, 8 and 12, with whom she lived at her in-laws' home here.
She was born in a Hindu family from Delhi and had adopted Sikhism after marrying Narinder in 2005, said his father, Tarsem Singh. She has reportedly said she is happy in her "new life" and "will die if forced to leave", and has approached the Pakistan government for extension of her stay there, citing "threat of assassination" if sent back upon visa expiration on April 21.
But Tarsem is looking for ways to get her back. He said she has been "forcibly converted", adding, "I cannot say how she came in contact with the man she has apparently married, Muhammad Azam. It could be through social media. She was seen browsing Facebook on her mobile phone for the past one month." He met the local deputy superintendent of police on Thursday and urged the media to lend a helping hand. "If her visa is not extended, she will have no choice but to come back home," a visibly distraught Tarsem, who is a 'granthi' (priest) at a gurdwara, said.
He added that he was saddened to get to know of the incident from the media and not the Shiromani Gurdwara Parbandhak Committee (SGPC), the Sikh organisation that coordinated the April 12-21 visit of a jatha (group) of 700 people, including her, to prominent shrines on the occasion of Baisakhi. Tarsem said he accompanied Kiran to Amritsar on April 10 and met SGPC officials. "I told SGPC officials that Kiran is alone on the trip; they told me not to worry."
As per the application filed by her before Pakistan's ministry of external affairs, Kiran embraced Islam from an institution, Dar-ul-Uloom Jamia Naeemia, in Lahore on April 16. "She called home several times to inform about her well-being but never dropped a hint that she would not return. We are worried for her safety there. She should think about her kids. Their lives will be ruined."
Alleging that she may have been "fallen into the hands of" Pakistan's spy agency Inter-Services Intelligence (ISI), and may have been forced to convert and remarry there, he appealed to India's President, Prime Minister, Punjab's chief minister, the police and SGPC to make efforts to bring her back.
Meanwhile, the SGPC is set to conduct a probe into how she managed to leave India and then the jatha, but also blamed the central spy agencies. Its spokesperson Diljit Singh Bedi said in Amritsar that SGPC collects passports and other documents of those wanting to get a pilgrimage visa "upon written recommendation of the elected SGPC member concerned", and the Centre and state government "verify the antecedents through their own security and intelligence agencies". However, the two SGPC members from Garhshankar segment denied having recommended her name.
"As the matter is very serious, it will be put up at the SGPC executive meeting on Friday at Takht Sri Damdama Sahib, Talwandi Sabo (Bathinda), for discussion. A probe is expected to be ordered during this meeting. Besides, once the jatha returns on Saturday, its leader Gurmeet Singh Booh, who is an executive member of SGPC, will give a report," Bedi said.
He added that the passports of the pilgrims are taken by Pakistan's Evacuee Trust Property Board (ETPB) too. "The pilgrims remain under surveillance and cannot violate the security cover. We don't know how she did that." He added, "Indian agencies cannot be spared while fixing responsibility for this. The Union government should take immediate action and bring truth to the fore."
He termed the woman's act "sad and unfortunate": "This has potential of leaving a bad impression on other pilgrims. In the history of pilgrimage to Pakistan, it is the first incident of its kind and a blot." Asked if SGPC plans measures to prevent such an incident in future, he said, "If somebody goes with ill intention, what can the SGPC do?"
Happened this side too
In a similar incident, a Pakistani youth named Vicky, 30, who came with a Hindu jatha, had left the group on February 14, Valentine's Day, to purportedly meet his lover from Jaipur in Amritsar after having been in touch with her over Facebook. He had gone missing soon after crossing the Wagah-Attari border, and Mukesh Rana, the jatha leader, informed the police. The cops checked hotels and guesthouses around the Golden Temple, but he eventually returned on his own the next day. He was presented to the police by the jatha members, but was let off after interrogation revealed that he had stayed the night with the woman in a hotel in the city.
Close Story