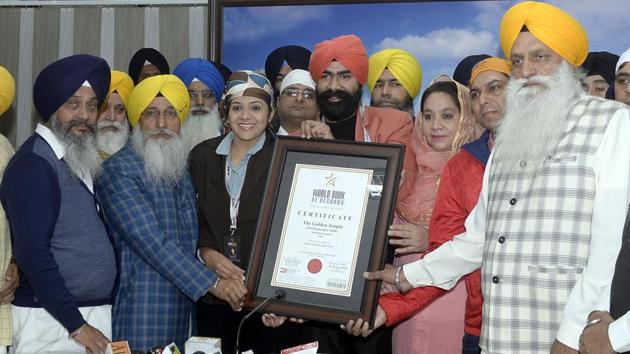 Golden Temple awarded 'most visited place of the world'
According to an SGPC official, more than one lakh devotees visit the Golden Temple every day.
Hindustan Times, Amritsar | By HT Correspondent
UPDATED ON NOV 24, 2017 10:59 PM IST
The Golden Temple has been awarded the 'most visited place of the world' by 'World Book of Records' (WBR), a London-based organisation that catalogues and verifies world records.
General secretary of India chapter, Surbhi Kaul, and president of Punjab chapter, Randeep Singh Kohli, gave this award to SGPC chief secretary Roop Singh and other senior officials at Teja Singh Samundari Hall, on Friday.
Kaul said her organisation gives the award after every three months and the Golden Temple has been conferred this award on the basis of observations made from September onwards.
"Lakhs of devotees visit this holy shrine, and the footfall is increasing by the day. This is why the WBR has awarded it," she said, adding, "So far, eight places, including Shirdi Sai Baba, Vaishno Devi and Mount Abu, have received this award."
Kohli said the Punjab chapter recommended Golden Temple for this award two months ago to Santosh Shukla, president of WBR's India chapter. "This award is like paying obeisance here", said Shukla.
Kohli said they are planning to give these awards to Durgiana Temple at Amritsar and Attari-Wagah border, which also witnesse a huge footfall.
The WBR team, however, could not give satisfactory answers to questions regarding the criteria that determine this award.
Speaking on the occasion, the SGPC chief secretary said though the shrine has been hugely popular ever since its foundation, the footfall has increased since the live telecast of gurbani kirtan. He said on average more than one lakh devotees visit the shrine every day.
"The heritage street, a project of the SAD-BJP government, has contributed a lot to attracting devotees and visitors to this holy shrine," he added.
He said the SGPC was trying its best to facilitate the devotees under the guidance of its president Kirpal Singh Badungar.
Later, he honoured the WBR team with 'siropas' and a model of the Golden Temple.
Close